If you travel internationally, you've probably used TripAdvisor to figure out the best places for you to stay, visit, or eat. We're extremely honored to have been awarded the TripAdvisor Hall of Fame for 2018 for earning a Certificate of Excellence every year for the past five years.
TripAdvisor Hall of Fame – Certificate of Excellence 2014, 2015, 2016, 2017, 2018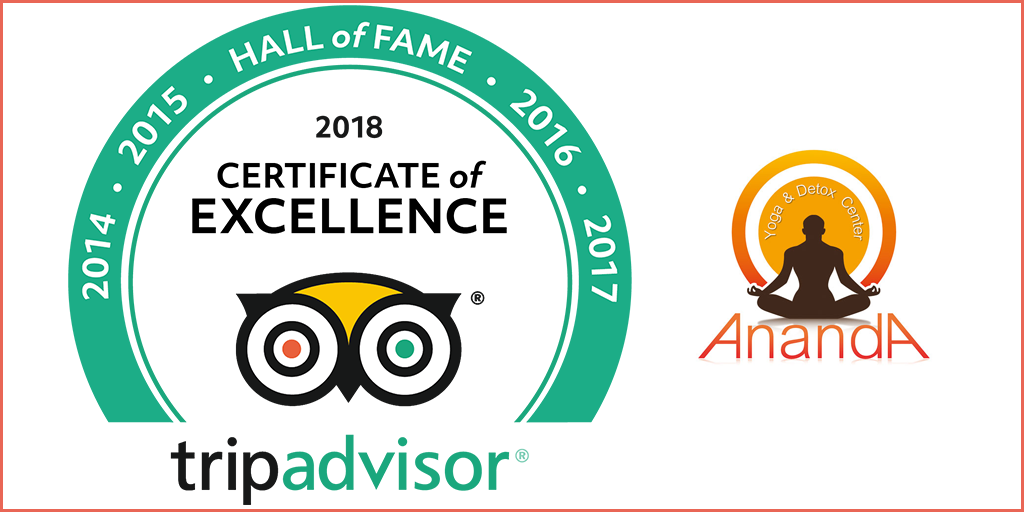 We would love to host you soon for one of our award winning retreats. Come see why we received the TripAdvisor Hall of Fame reward!
Yoga Retreats & Detox Retreats
Recent Reviews
200 Hour Yoga Teacher Training
I did a lot of research before choosing the TTC and I would like to leave a more extended review for students considering Ananda, hopefully it helps you!

Training
Probably one of the best value for money there is. The lead trainer is professional, knowledgeable, inspiring, encouraging, and above all, non dogmatic. You receive the tools to develop yourself as a yogi and to share your (new) skills with the students you will teach. Although the style is Alignment based, the training emphasis that there is no "wrong or right", just different approaches of the same philosophy. You are encouraged to find solid answers to questions that future students might ask you.

The daily schedule is structured and the overall program is well thought out. We deepened our own practice, learned about correct alignment in many poses, learned to cue, observe and adjust students, and we practiced teaching from day one. Scary in the beginning, but we were all in the same journey and the environment couldn't have been more encouraging. I leave the training feeling confident and ready to teach professionally, something I didn't expect at all!

Accommodation
I wanted to book a single room at Ananda but it was fully booked, so I stayed in a Bungalow for the entire month. I was very pleased; it is elevated and has a veranda (with hammock) and view and some privacy to rest and study. Very nice bed, tv (I haven't used), bathroom, fridge, and closet to hang your clothes. The swimming pool is a bliss! There are also other nice places to chill out at the property. Housekeeping tidies the room every day.

Food
Very nourishing, tasty, and on time. It's buffets style, enough for everyone, and almost vegan (only some egg).

I was very glad I chose a training were food and accomodation was included, it would have been difficult going out for food 3 times a day when you're in an intense training!
Detox Retreat
As a nutritionist that owns a spa offering detoxes for the past 20 years, I couldn't be more pleased with the program.
The amount of support accelerates spiritual growth and deepens the purge. Great supplements and a full program. Wonderful to have Thai herbal sauna, salt pool, yoga and daily massages as soothing supportive aids to nourish body, mind and soul even more.

This was the easiest fast I have ever done as you are taking something orally every 90 minutes. Staff were all fabulous. Facilities is very clean. Instructors for Qi gong and yoga were lovely. Location is across from the beach, so night caps are sunsets on the beach. Hammocks hang outside each room to take you deeper into relaxation while you rejuvenate. Whether you want to reduce pain, purge your darkest corners at a cellular level, boost immunity or just lose weight, this place I would highly recommend going out of your way for.

My only regret is we couldn't stay longer, so we will be back;)
Contact us today to see what specials we have to offer, and schedule your island getaway!