Detox on Koh Phangan island!
We are one of the best time-proven centers for yoga and detox in Thailand!
Click the questions below for additional information about Ananda Yoga & Detox Center's Detox Programs!
Click the buttons below for Program Pricing.
Detox Only:  9,000 ฿   
      (excludes accommodation)
Detox + Accommodation Rates: (4 nights)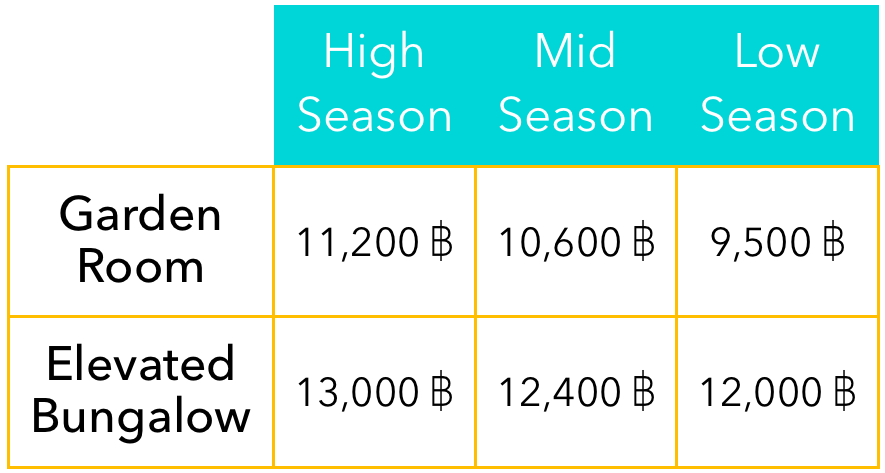 The 3.5 day detox program (4 nights) is designed for people who do not have the time to do a longer program but still want to experience the detoxification process and prepare their bodies for a future 7-day program. The 3.5 day program is also a great "tune up" for your system throughout the year to maintain optimal health.
Detox Only:  18,000 ฿   
     (excludes accommodation)

Detox + Accommodation Rates: (8 nights)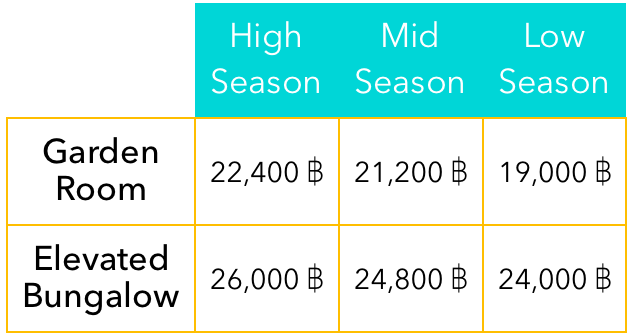 The 7.5 day detox program (8 nights) is the most popular. It takes exactly seven days of fasting to cleanse the entire bloodstream and thoroughly rid the lymph system of toxins.  Detoxers from around the world return to Ananda annually for the 7 day detox.
Detox Only:  22,000 ฿   
     (excludes accommodation)

Detox + Accommodation Rates: (11 nights)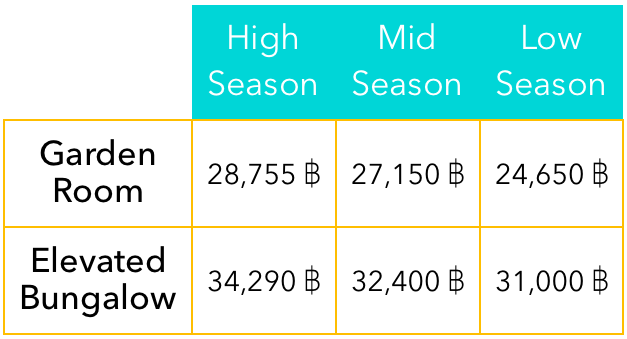 The 11 day program (11 nights) is our most thorough program. For the first 2 days the detoxer will eat a diet of fruit, raw vegetables and juices to prepare for the fast. This is followed by 7 days of fasting. The fast is broken gently on the final two days by repeating a gentle diet of fruit, raw vegetables and juices.
Prices in Thai Baht (฿). All services and amenities are complimentary. Prices are not modified if you choose not to use all of the offered services. Please note that promotional discounts apply to the accommodation pricing, not the base detox rate.  
Low Season: 21 August – 19 December
Mid Season: 21 April – 20 August
High Season: 20 December – 20 April
Ananda's Time-Tested System
Our Detoxification and Cleansing Fast programs utilize a time-proven system to rid the body of toxins and other unwanted waste. 
Click on each element below to learn more.
These additional elements can can be added to our classic Detox Programs for an even more thorough and customized detox experience! 
Ananada Yoga & Detox Center has been selected as the "Best Holistic Therapy Centre" by Global Health & Pharma's Alternative Medicine & Holistic Health Awards (2018). We've also been awarded "Trip Advisor's Hall of Fame" (2018) for earning a Certificate of Excellence every year for the past 5 years. 
Your body craves a detox at least once a year. It's a way to get in tune with your body and mind, and to "spring clean" your internal system and get rid of the built up toxins. Many who detox at Ananda return to annually to re-set their internal systems. 
Our Detox participants have left great testimonials, many of whom return annually to reset their systems with another Ananda detox.
"Thank you for a great detox experience. The staff was very warm and welcoming and they took care of everything. I didn't feel like a number as they really made sure I didn't miss an appointment , shake or pill. I loved the daily massages and the yoga classes were really really good."
"Beautiful place! I had an amazing transformative 7.5 day detox at Ananda - great location, facilities, staff, services, and support. You can expect the retreats to be exactly as expected as advertised on their website, but even better! The colemas are fantastic (super easy in very clean and private facilities), great yoga & meditation, and daily massages. And the staff is wonderful in preparing and keeping you on schedule for your shakes, juices, and herbs. Recommend this place to anyone interested in learning more and trying a detox!"
"Before the cleanse I felt bloated, heavy and always not as well as I could be. Bad skin and tired with lots of trapped gas.The first few days were tough, but after day 5 I felt better and better each day; stronger each day and happier! After, I feel brand new. I feel clean and refreshed and ready to take on the world. I don't feel bloated, I have lots of energy and a new outlook on life. A tough but worthwhile 7.5 days!"
"Before I was feeling heavy and intoxicated. At the beginning it was tough, but day after day I started to feel better. Not really hungry. My mind after a long time was clear! Now I am happy. I feel good with my body, that is lighter. My skin is simply clean and beautiful. My senses are really working. I can appreciate taste and smell. I don't have that feeling of heaviness anymore. "
""Before starting the cleanse I used to feel heavy (emotionally, physically) and my stomach was always full even when not eating. During the cleanse, I felt good knowing I am doing something healthy for my body, but because of the strict diet, most of the time I felt physically powerless. The after is the part I love the most! I feel clean, carrying positive energy and also happy because I've lost some weight!" "