Align tradition with innovation, stillness with flow, timeless yogic wisdom with personal discovery. Begin your yoga journey with us or recommit and deepen your practice. Whichever it is you will love your teacher training experience here on Koh Phangan, our island paradise.
In a Partnership with Yama Yoga Studios
What's Included
28 Nights of accommodation.

Three healthy vegan / vegetarian meals.

Access to

salt water pool

,

steam room

,

relaxation areas.

Sunsets and beach walks.
Unlimited herbal tea and filter water.
Two massage over the duration of the training.
Welcome package and graduation party.

Assistance with Motorbike and bicycle rental.

15% Discount off a yoga or detox retreat within a year of the completion of your training.
50% off paddle board rental
Free Wi-Fi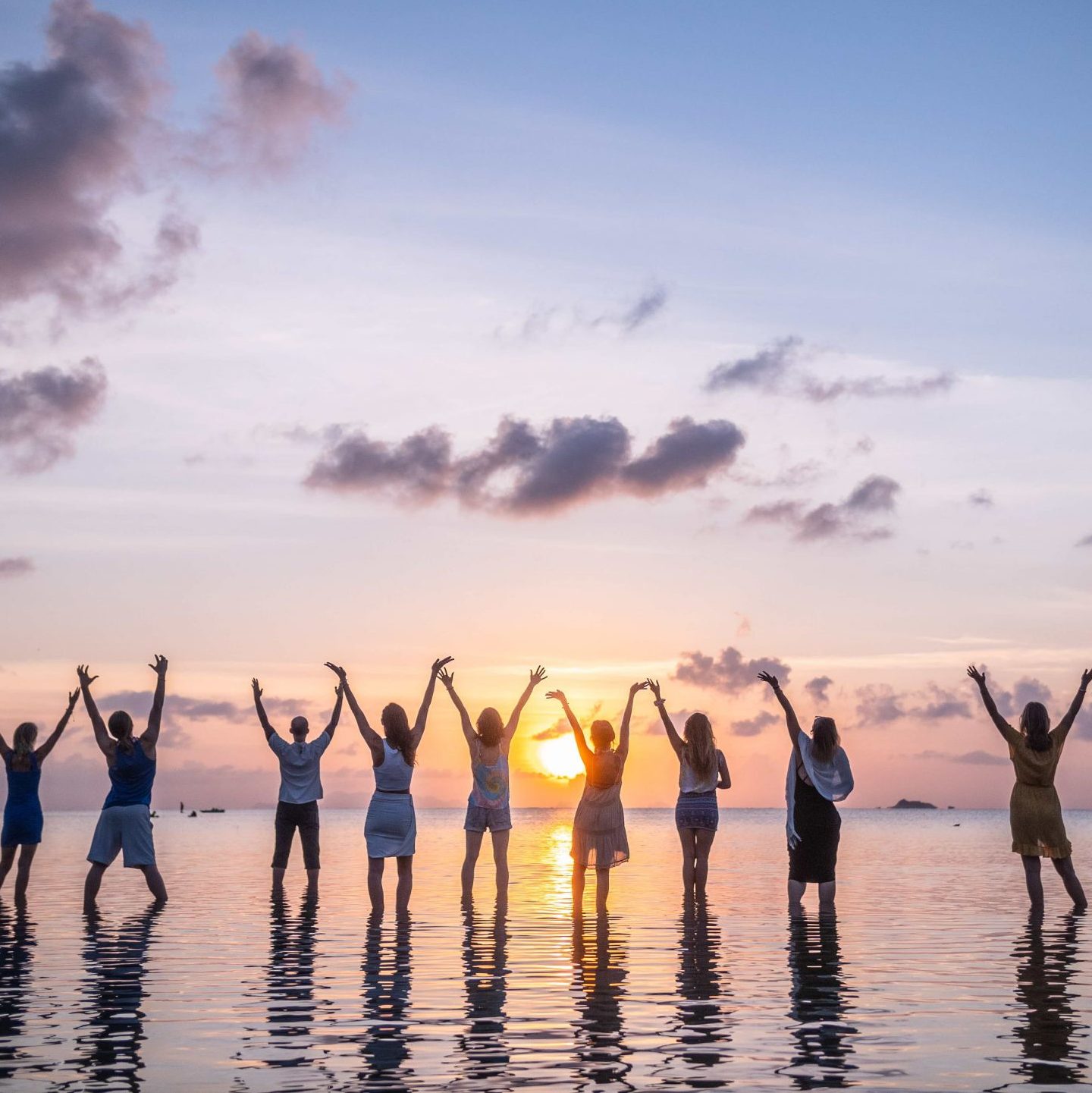 Program Details
Upon successful completion of this training course you will be equipped with:
The ability to sequence and teach a dynamic, vinyasa style asana class to a variety of levels
The ability to sequence and teach a gentle, restorative style asana class
An understanding of the ashtanga system and how it influences contemporary yoga forms
An understanding of alternative movement forms that inform contemporary yoga practices
The interpersonal skills needed for successful teaching practices
Your own personalised asana practice
Your own personalised seated practice
An understanding of yoga anatomy, both subtle and contemporary
An understanding of the greater context of Yoga including its textual basis and modern interpretations
A personal and experiential understanding of yoga philosophy
Business of Yoga skills
A 200-hour Yoga Alliance certificate that is internationally recognised
Our program meets and exceeds all yoga alliance requirements. Your 200 hour program features the following
Comprehensive asana instruction in dynamic ashtanga and vinyasa forms in addition to explorations of softer forms such as yin, myofascial release, restorative yoga and more.
Daily pose clinics and workshops
Practical yoga anatomy curriculum
Practical yoga philosophy curriculum
Dynamic and very hands on teaching curriculum – you will practice teaching both yin and yang forms
Extensive practicum experiences including on line and in person experiences
Basic Sanskrit
Ethics of teaching and scope of practice
Yoga for self care and self healing
The yoga lifestyle
All instruction in English so you must be able to speak and read English at conversational level
You must be able to participate in a group learning experience and be willing to accept and provide feedback in an objective and constructive way.
Some yoga experience but you do not have to be advanced
No need to be flexible.
Experience our Center (Video)
We have crafted a 1:30 minute video to show you the beauty of Koh Phangan and walk you through the experience you could have when you decide to have your yoga teacher training with us.
Dates
| | |
| --- | --- |
| Dates | Early Bird Deadline |
| November 20 – December 18, 2022 (Early bird offer extended till 15 November 2022) | November 15, 2022 |
| January 8 – February 5, 2023 | November 26, 2022 |
| February 26 – March 25, 2023 | January 21, 2023 |
| April 9 – May 7, 2023 | February 25, 2023 |
| October 1 – October 28, 2023 | August 26, 2023 |
| November 19 – Dec 16, 2023 | October 14, 2023 |
Regular early bird discount of $300 off your total cost if deposited 6 weeks in advance.

Prices
Prices are listed for 1 person and depends on the type of accommodation (see the table below).
We are offering you a limited early bird discount of $300 on all of our plans, if you pay your deposit at least six weeks in advance.
A deposit of $450 will reserve your spot.
Pay your booking deposit on our November & January training by 15 November 2022 to secure lowest prices!
| | | |
| --- | --- | --- |
| Type of Accommodation | Prices until 15 Nov 2022 | Price from 16 Nov 2022 |
| No Accommodation (includes all meals) | $2,050 | $2,200 |
| Dorm Accommodation (Mixed Gender/Shared) | $2,200 | $2,550 |
| Garden Room (Shared or Couples) | $2,550 | $2,750 |
| Garden Room (Private) | $3,250 | $3,050 |
| Elevated Bungalow (Couples) | – | $3,100 |
| Elevated Bungalow Private | – | $3,650 |
Dorms have 3 Single Beds
Garden Rooms have Double Beds or Twin Beds
Elevated Bungalows have only Double Beds
*All rooms have en-suite private bathrooms and air-conditioning
Program Instructors
Valerie Jeremijenko (ERYT 500 since 2006, PhD, MFA.)
With over 30 years of practice and teaching experience and 15 years of leading teacher training programs Valerie invests in the personal and professional development of students using the tools of asana, practical philosophy and the simple joy of practice. She infuses her classes with warmth, humour and compassion focusing on self-study and self-nurture for the duration of the program.
Rachel Kang (ERYT 200)
Formerly a microbiology technician, Rachel turned to yoga in humble hopes of improving her mental health. Unbeknownst to her, she was stepping into the path of her soul calling. She has been teaching yoga & meditation in Koh Phangan for the last three years and specialises in the gentler forms of yoga – yin & restorative. She emphasises understanding the biological connection between yoga, pranayama, meditation and the body.
Alona Dzyvatovska (ERYT 200)
Since completing her teacher training in Bali in 2019 Alona has fully dedicated herself to the practice of yoga and used it as a tool for trauma-recovery, self-confidence and self-renewal. In her classes she tests her students' limits to help them find self-love and inner strength.
Pictures are worth a thousand words. Check out our center here.
Sample Schedule of a training day
| | |
| --- | --- |
| Time | Activity |
| 7 – 8:45am | Practice |
| 9 – 10:30 | Breakfast & Break |
| 10:30 – 1:30 | Pose Clinics, Yoga Teaching Theory and Techniques and Practicum |
| 1.30 – 2.30 pm | Lunch |
| 2:30 – 5.00 | Theory – Yoga Anatomy and Practical Yoga Philosophy |
| 5:00 – 6:00pm | Meditation, Pranayama, Yin, Restorative, Somatic Practices and Slow Flow Yoga |
| 6:30pm | Dinner and Rest |
| 7:00 pm | Review Sessions, Open discussion, Movies – twice a week |
Accommodation Types
Our mixed gender dorm rooms can accommodate up to 4 people. They are simple yet comfortable and include the basics of what you will need. Just steps from the studio.
We have both private and shared garden rooms. All feature balconies overlooking our lovely garden. Sea breezes will keep you cool.
We have dorm rooms and both private and shared garden rooms. The Garden Rooms feature lovely balconies looking out at the sunset.
We have been a Yoga Alliance accredited Registered Yoga School (RYS) since 2007.
Testimonials
Valerie is an amazing teacher. Her passion and extensive knowledge was reflected in the confidence I felt at the end of the training. It was an incredible journey of self learning, inspiration on and off the mat and ultimately a gift we pass on to others. I would definitely recommend her teacher training program to everyone who wishes to challenge themselves and deepen their practice.
— Sarah, 200 hr Yoga Teacher Training
The training was a great experience to improve my skills in teaching, clueing, layering. Valerie, the head of the training is knowledgable, passionate for yoga, and a great practitioner. She knows the business industry as well and shares that experience as a yoga studio owner. Most importantly she manages to help us to develop our own style and voice as a yoga teacher.
— Veronique, 200 hr Yoga Teacher Training
I was very satisfied with the training I received at Yama Yoga Studios. The program was broad in its scope and the teachers offered invaluable guidance throughout. I particularly appreciated the open mindedness with which Valerie encouraged us to approach varied perspectives, even when they were at odds with her own. To me, this is the hallmark of an accomplished educator
— Juilet, 200 hr Yoga Teacher Training