Evangelos Syrigos-Founder/Owner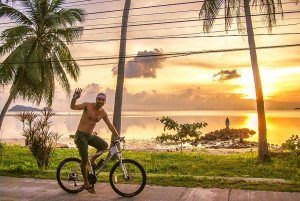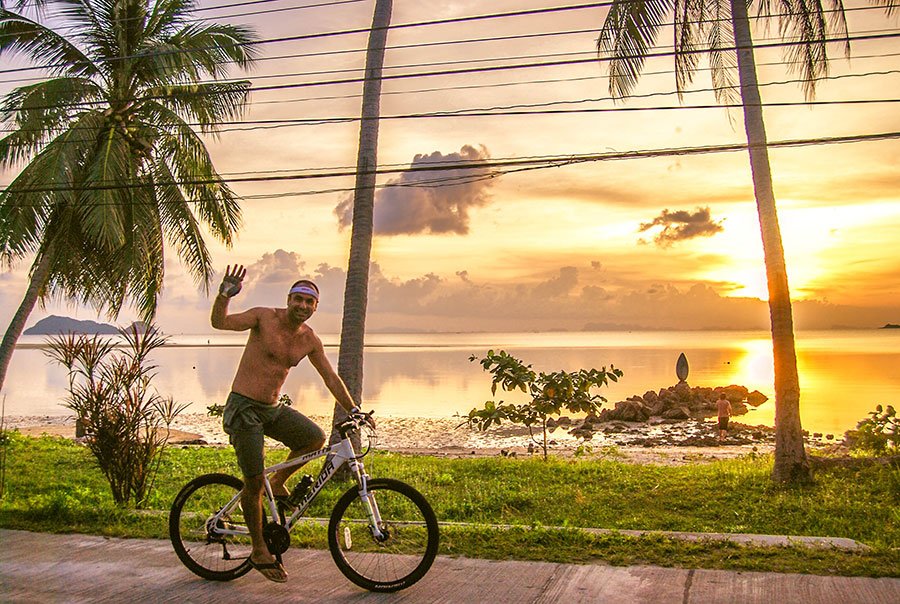 Owner of Ananda Yoga & Detox Center, was born in the picturesque resort town of Lavrio, Greece in 1968. In Greece, he had several successful businesses; teacher and owner of a computer school for children and unemployed adults and a director of stock brokerage office. Despite his financial success at age 35, Evangelos started to wonder if there is more to life than financial rewards. Poor health contributed to his inner turmoil as well. More specifically, doctors in Greece advised Evangelos that the only way to heal his back was through surgery. Driven by thirst to find something of higher value, Evangelos took a journey to holy mountain, Athos in 2003.
Villy – General Manager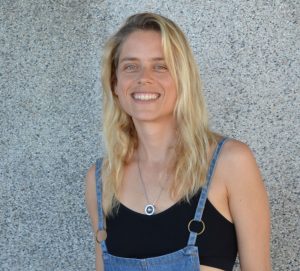 Vasiliki Terzi, affectionately known as "Villy", comes from Kilkis in Northern Greece. She studied at the Macedonia School of Tourism Professions (O.T.E.K.) and then entered Greece's hospitality industry, landing jobs at several major hotels. In 2010 she moved to Koh Phangan, Thailand to join the team of Ananda Yoga & Detox Center to run the resort's Detox programs, and assist guests to develop a new, healthy, lifestyle.
"I've always been an energetic person," says Villy, "and as a child in Northern Greece I was constantly active, played lots of basketball and did everything I could to maintain a good level of health and fitness. But in my late teens, I found myself partying too much, eating the wrong foods,barely exercising and sleeping too Little at night! I knew nothing and cared less about purifying my body – The word "detox" had never even entered my consciousness."
Moving to Thailand to work at Ananda changed Villy's life completely. She sees it as a huge stroke of luck that she was offered a job there. "Thanks to the atmosphere at Ananda, I have personally given up all my own former bad habits. I now eat properly, quit cigarettes and drinking alcohol, and exercise daily! I also regularly Detox my system and always try to get a proper night's sleep. I am genuinely proud of being able to demonstrate to our Detox guests what a thoroughly purified body endowed with excellent health can look like. Because I went thru all of this in my own life and I have the understanding to really help others."
Valerie – Director of Yoga Programming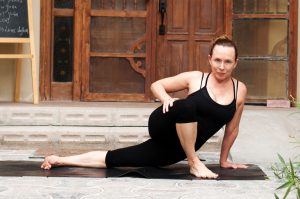 Valerie Jeremijenko, MFA, PhD, ERYT 500, is the Founder, Owner and Director of Yama Yoga Studios in Qatar and Yama Yoga Retreat Centre in Bulgaria. She joins the Ananda Yoga and Detox team in September as partner, Director of Yoga Programming and Teacher Training and lead teacher.
As a teacher Valerie is both charismatic and nurturing and infuses her classes with compassion, humor, intelligence and challenge. She sees each practice as an archetypal voyage and tries to lead her students into the meaning, story and power of each pose. Her class forms include dynamic lead astanga, creative vinyasa, and technical workshops. She also offers classes in myofascial release, breathing, yoga nidra, and mediation. Her in-depth teacher training programs are also highly acclaimed and to date she has graduated over 300 200-hour teachers
and close to 100 teachers from the 300-hour program who now teach world-wide. Valerie is also the editor of How We Live our Yoga (Beacon, 2001) a collection of literary essays about the way yoga transforms our lives published by Beacon Press in 2001. Favourably reviewed by the New York Times, Publishers Weekly and many others an e-verion of this book will be released in August 2020.
Johnny – Yoga Programs Director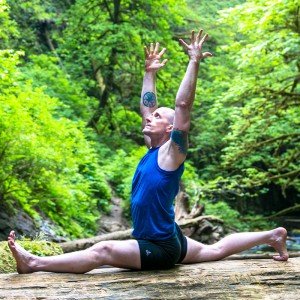 Johnny Nasello is an e-500 RYT (Registered Yoga Teacher), Certified Personal Trainer, and expert group fitness instructor. His past experience includes owning and managing a yoga and fitness studio in Portland, Oregon, and teaching over 7,000 classes. He specializes in alignment based yoga, with attention to form and posture, so that his students can deepen their practice in a safe environment. He believes that the challenges faced on a yoga mat should be relatable to the challenges faced in everyday life. Through consistent practice, meditation, and introspection, we can empower ourselves to live a life with meaning and purpose.