Low season on Koh Phangan is a traveler's dream if you enjoy a tropical island that is free of crowds, and has unbeatable specials on accommodation and activities!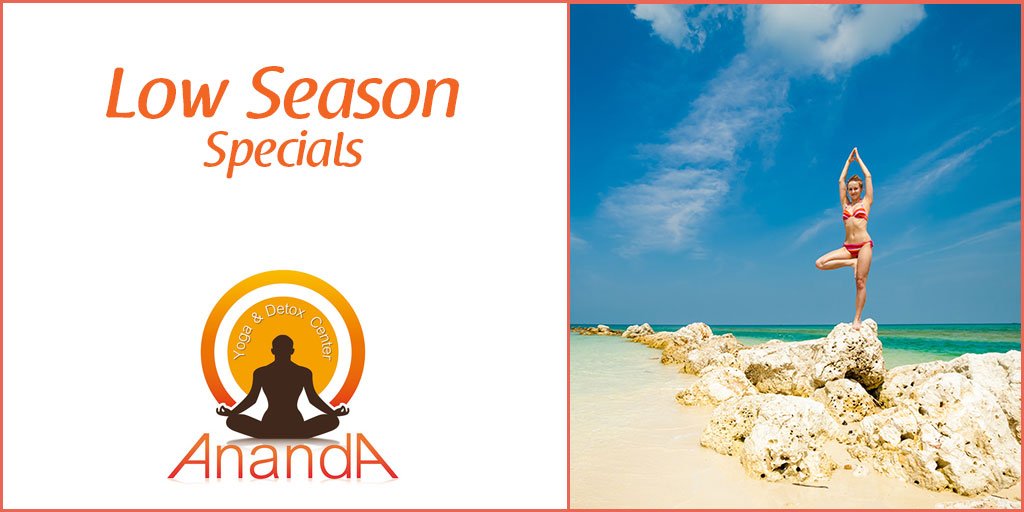 Low Season Specials
Here at Ananda Yoga & Detox Center, we've got some of the best seasonal specials around. Our current specials run from September 1st until December 20th. We've got your Thailand travel itinerary covered! We have amazing deals on our Detox Program, Yoga Retreats, and upcoming Yoga Teacher Training Certification.
Thailand Detox Programs
We are Koh Phangan's Time Proven World Class Detox & Yoga Center. Our detox program is simply the best, both in service and price.
10% Off All Detox Programs
FREE Fan Rooms During Fasting Nights
Insanely reduced A/C and Bungalow Accommodation Prices
Our Trip Advisor reviews are AMAZING! We know that you're an educated consumer, so we encourage you to see what others are saying about our programs!
Thailand Yoga Retreats
You may have heard that Bali is getting really crowded, and that Koh Phangan is a more relaxed place to practice yoga in SE Asia.
Unlike other places who have a rotating cast of traveling teachers, we have resident teachers who are committed to making our yoga programs some of the best on Koh Phangan!
Our Alignment Yoga and Hatha Yoga classes accommodate all levels from beginner to advanced, and use precise instructions to ensure your safety and learning.
Thailand Yoga Teacher Training Certification
Our Yoga Alliance accredited 200 Hour Yoga Teacher Training Certification is designed to teach you the skills required to teach yoga to others. It's also a fantastic way to deepen your practice while learning about yoga poses, practical yoga philosophy, energy theories: chakras, bandhas, mudras, and living a yogic lifestyle.
Receive your early bird discount when you submit your deposit at least 30 days prior to the start of an upcoming yoga teacher training.
We also have many delicious meals at our vegan and vegetarian friendly restaurant during your yoga retreats or post detox.
Last but not least, all of our guests can enjoy our natural salt water pool, and herbal steam sauna.
The only thing we don't provide is your plane ticket! However, we have all the information you need to help you plan your trip on our Getting to Koh Phangan Resource Page.
What are you waiting for? Contact us today to book your next Yoga or Detox Retreat!