Begin your true evolution and transformation!
Ananda Pure Yoga Ashtanga Vinyasa 200 hour yoga teacher training at Ananda Yoga & Detox Center is the starting point for the rest of your life. This certification is recognized by Yoga Alliance.
Our Ashtanga Yoga Teacher Certification will allow you to teach globally. Under the professional guidance of our experienced international instructors, you will learn the theory and practice of yoga, the art of teaching, yoga philosophy, and much more!
Trainees may register with Yoga Alliance at its RYT-200 level upon successful completion of this training.
We ensure the quality of our yoga teacher training program by providing personalized guidance with the lead teacher to a small group of students.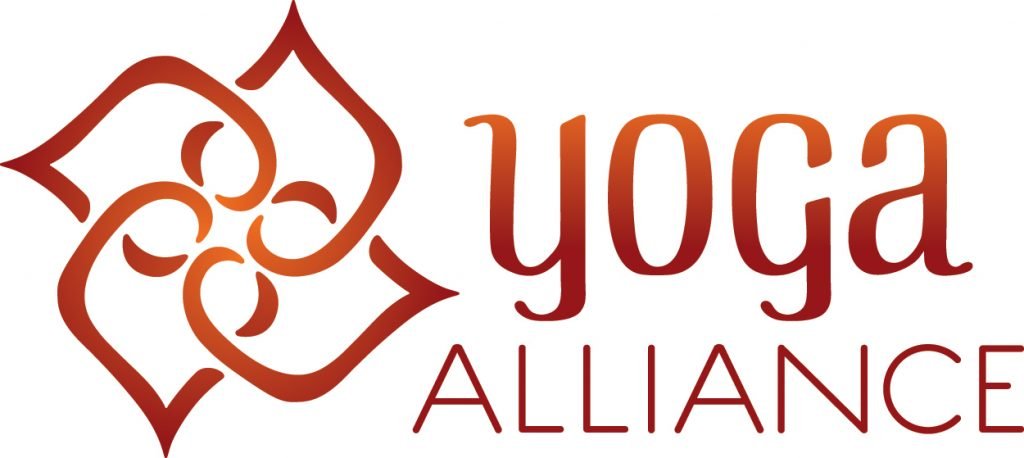 This yoga teacher training is a 28 day immersion, and includes 28 nights of accommodation & 3 vegetarian meals per day.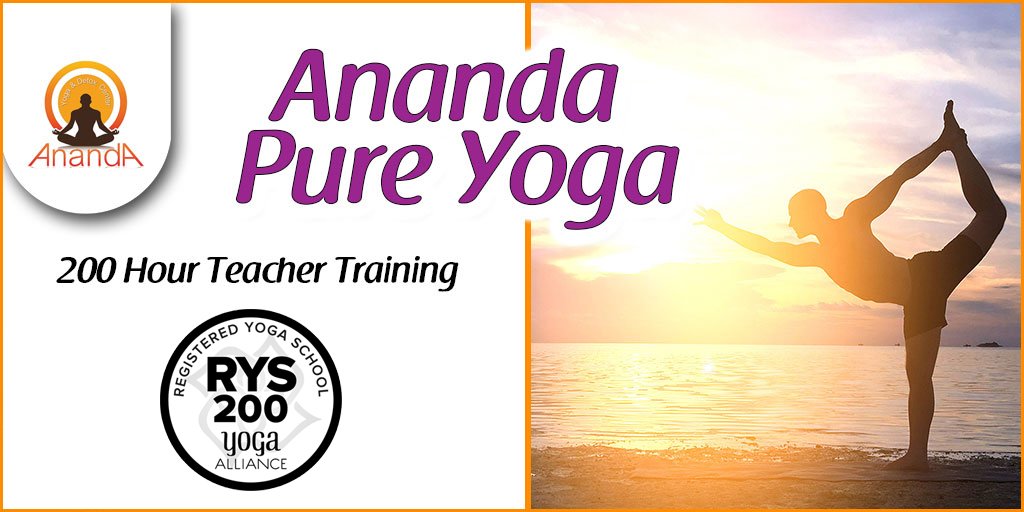 Ashtanga Vinyasa Yoga is a traditional yoga, known for the foundation of modern yoga today. It is a beautiful combination of dynamic style of asana practice with breath and internal awareness of presence. When Ashtanga Vinyasa Yoga is practiced with integrity, presence, and the awareness of energy movement within, the practice itself becomes a beautiful moving meditation. Every movement and breath become an expression of offering the inner presence from the heart.
Ananda Pure Yoga Ashtanga Vinyasa Teacher Training Course Curriculum
This Ashtanga Vinyasa Yoga Teacher Training provides a great foundation to refine your skills in the practice and the art of teaching yoga with presence and love. Focuses are not only on the intelligent understanding of biomechanics and physical alignment, but it also expands to energetic, psychological, and spiritual benefits of yoga.
Our approach to Yoga Practice is all-embracing; focuses are not only on physical alignment, but also on breath and energetic flow within with present moment awareness, subtle body and traditional Chakra system. You will learn how to practice and teach with heart. The course will provide a platform for your true evolution and transformation.
Additional topics will include:
Ashtanga Vinyasa Yoga
Vinyasa Flow Yoga
Restorative Yin Yoga
Asana
Pranayama
Bandha & Kriya
Meditation
Yoga Nidra
Mudra
Mantra
Kirtan and Voice Work
Physical & Energetic Anatomy
Introduction to Ayurveda and Yogic Diet
Yogic Lifestyle & Ethics
Yoga History & Philosophy
Introduction to Sanskrit
Art of Teaching
Alignment & Adjustment
Thai Yoga Massage Workshop
Ayurveda
Practicum
Business of Yoga
Photo session
200 Hour Yoga Teacher Training
$2,200
SHARED ROOMS, are available only to 2 students. If you are arriving alone, indicate in the comment section of your application to place you on the shared room waitlist. If another student wants to share a room, we will notify you that a Shared Room is available.
All rates with or without accommodation include 3 healthy vegetarian yogi meals per day plus herbal tea.
Deposit: $650
Early Bird Rate: Receive $300 off the cost above when we receive your deposit at least 30 days prior to the start of your yoga teacher training.
Teacher Training Location
The beautiful tropical island of Koh Phangan, Thailand. Receive your yoga teacher training in stress free paradise!
Ananda Yoga & Detox Center is located along Hin Kong beach, with a stunning view over the Gulf of Thailand. People come from all over the island every evening to enjoy the beautiful sunsets.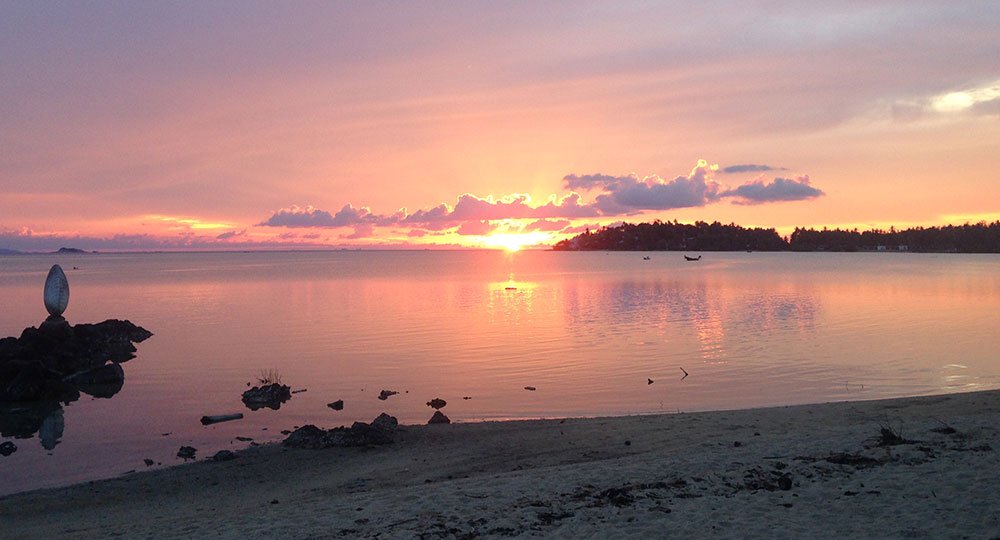 Our facilities are clean, cared for with love, and very serene and peaceful.
We offer several room types for your comfort level and budget.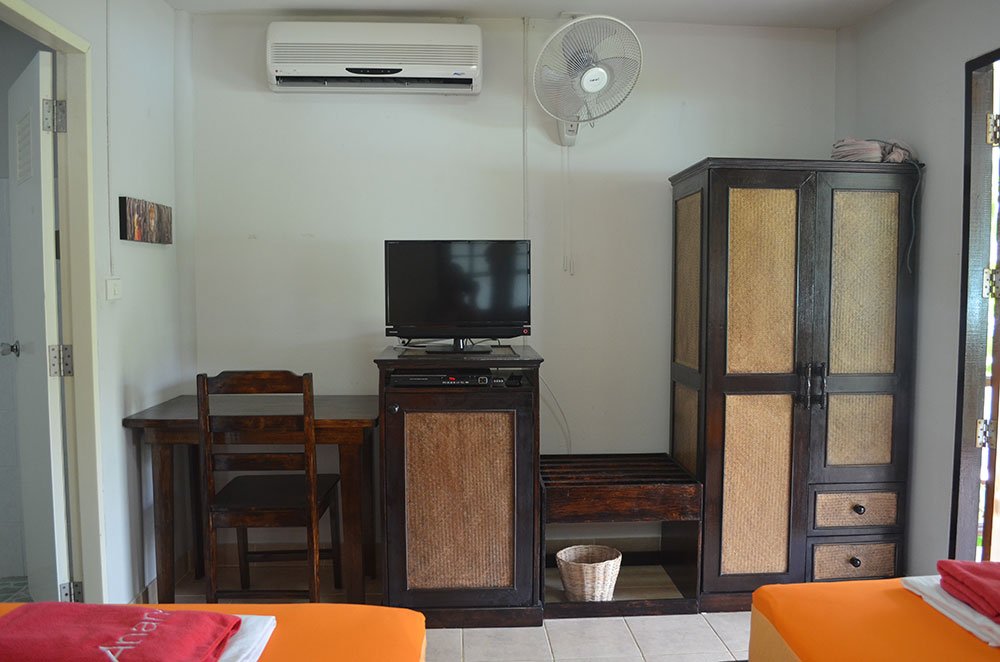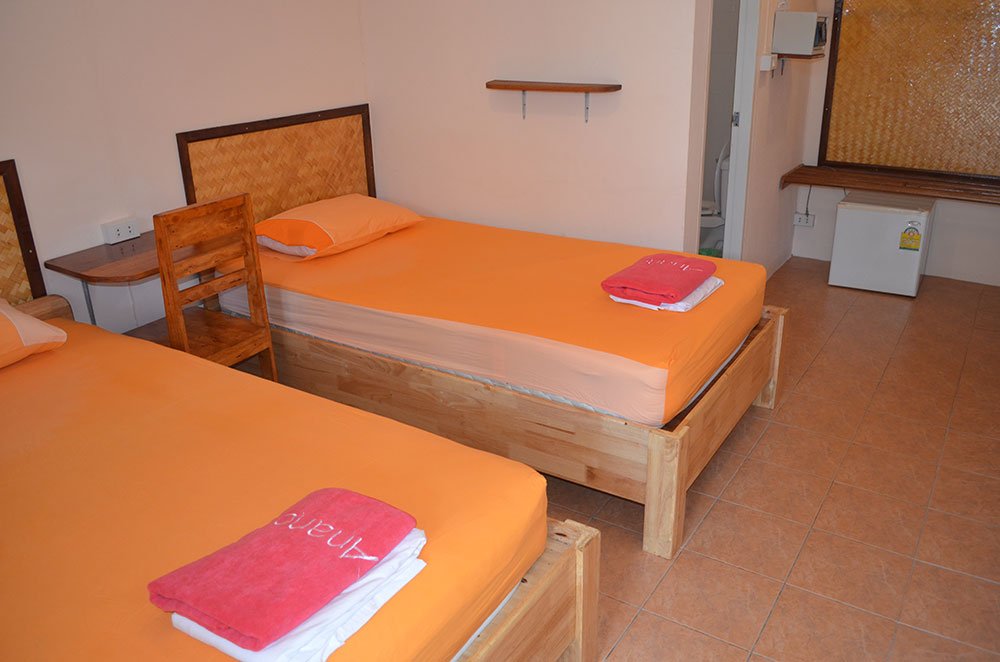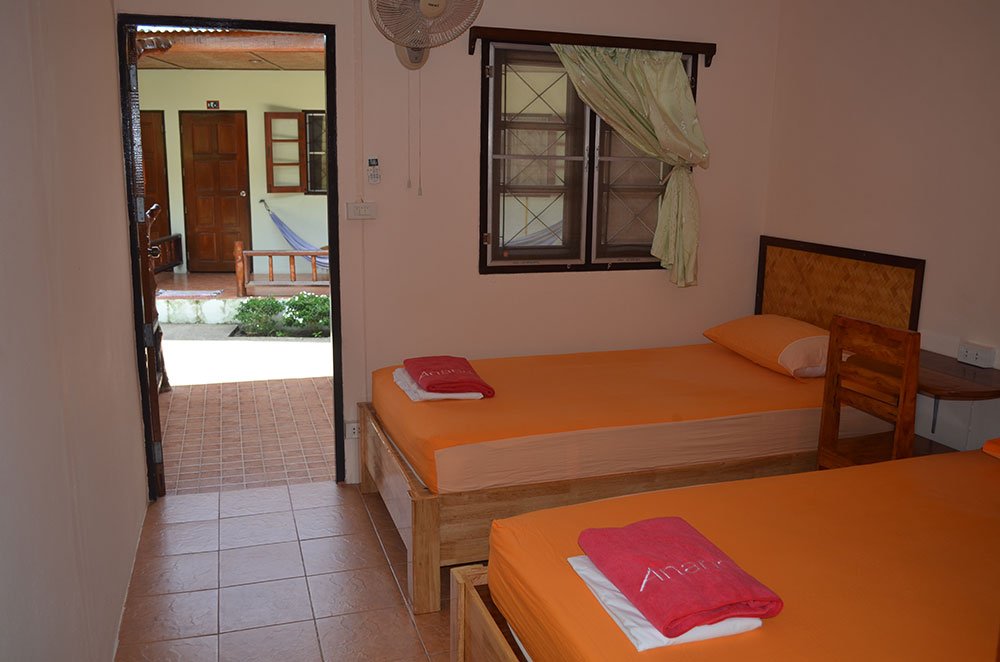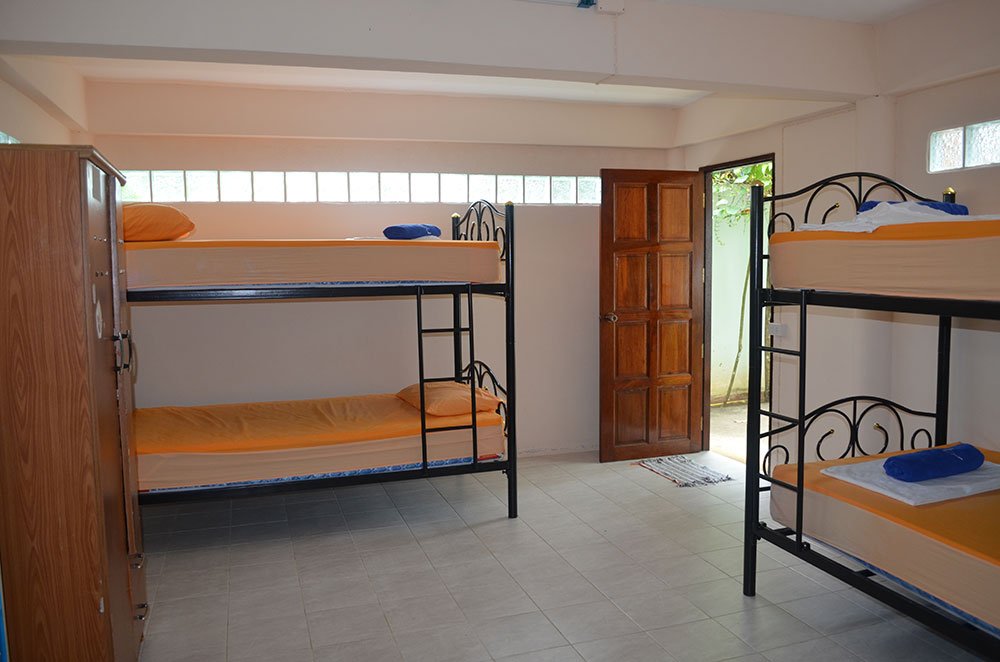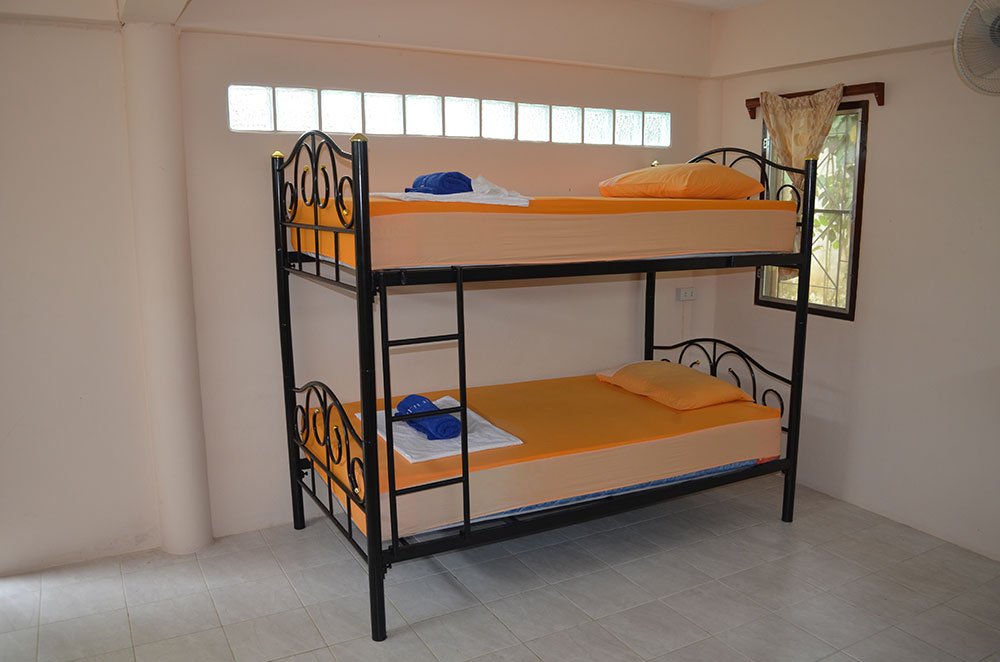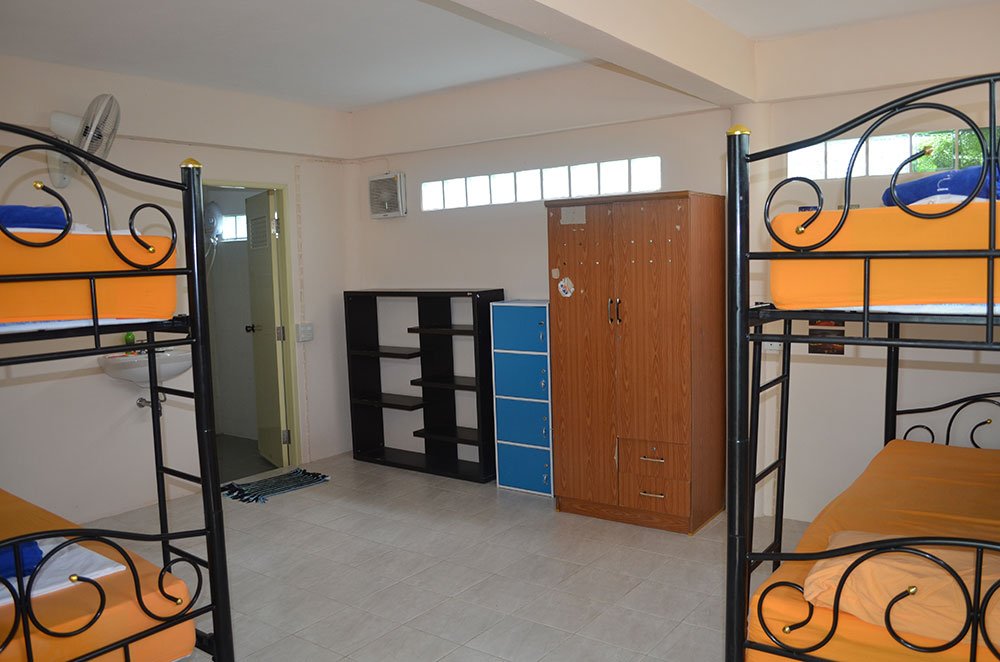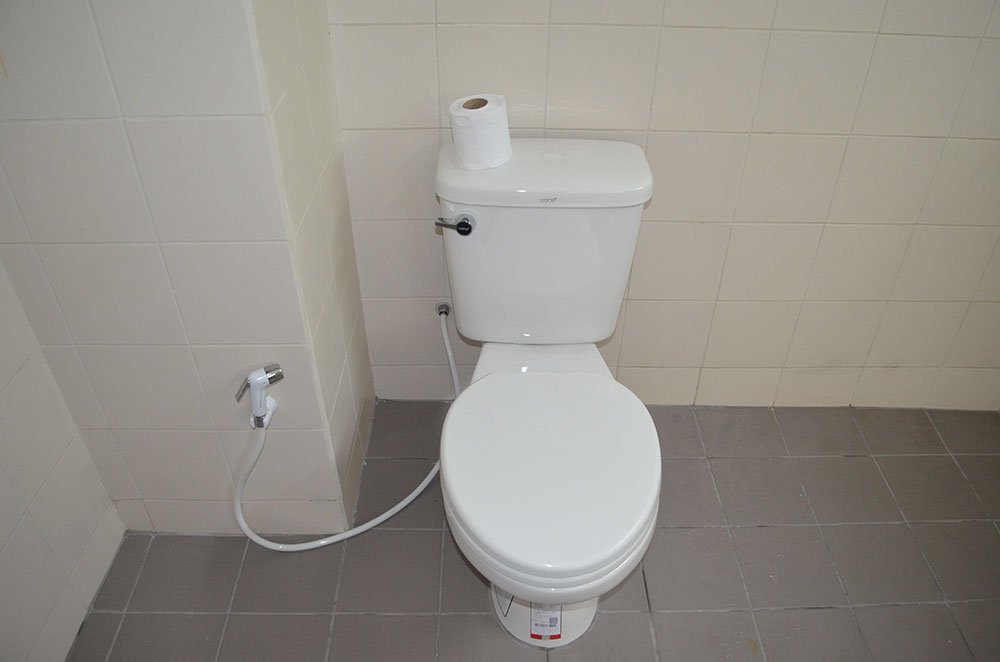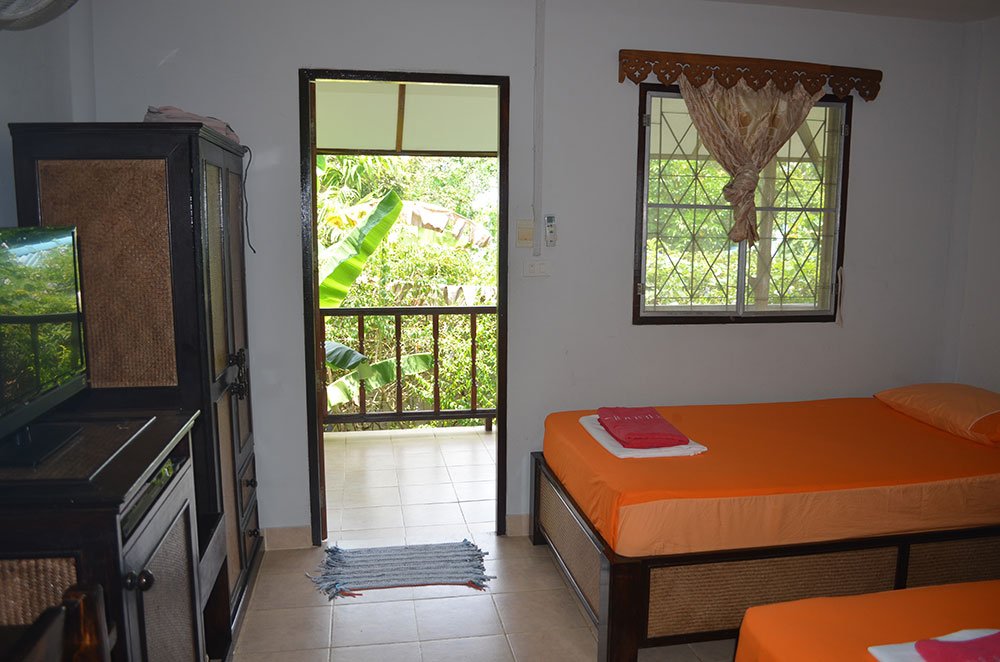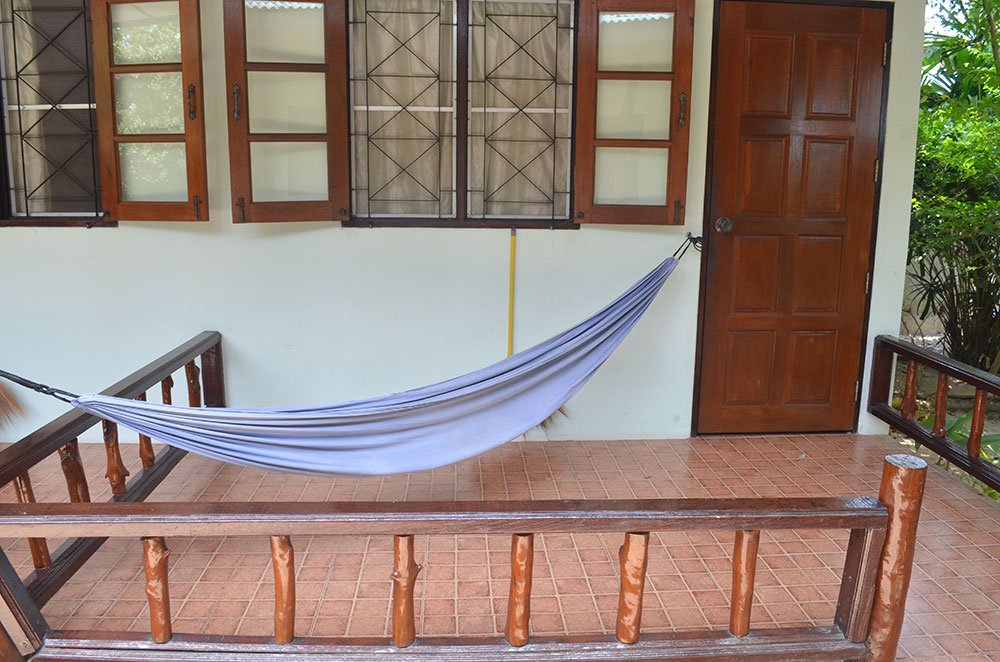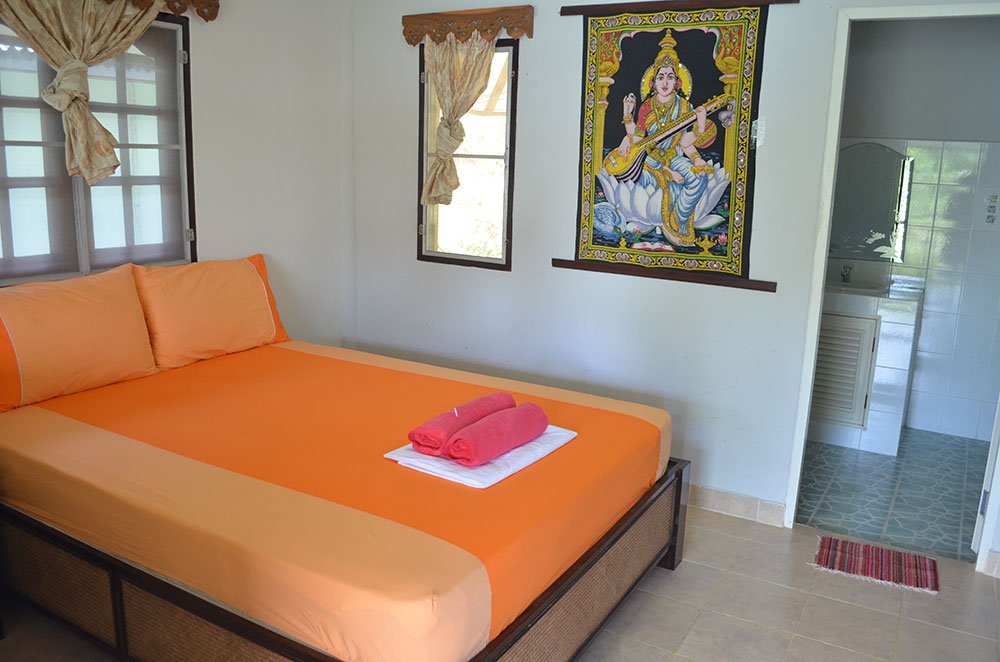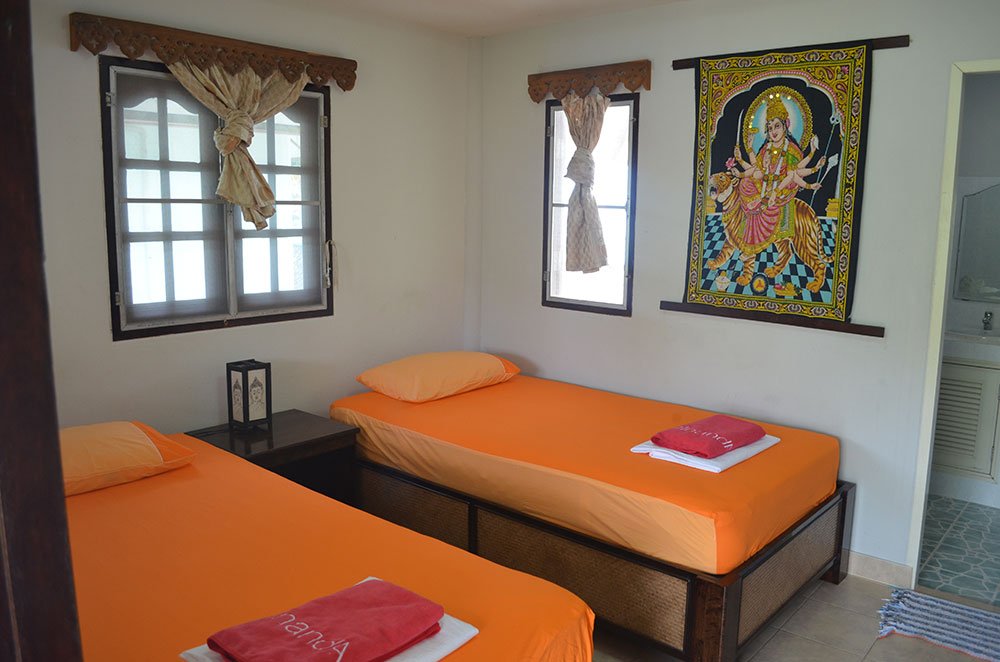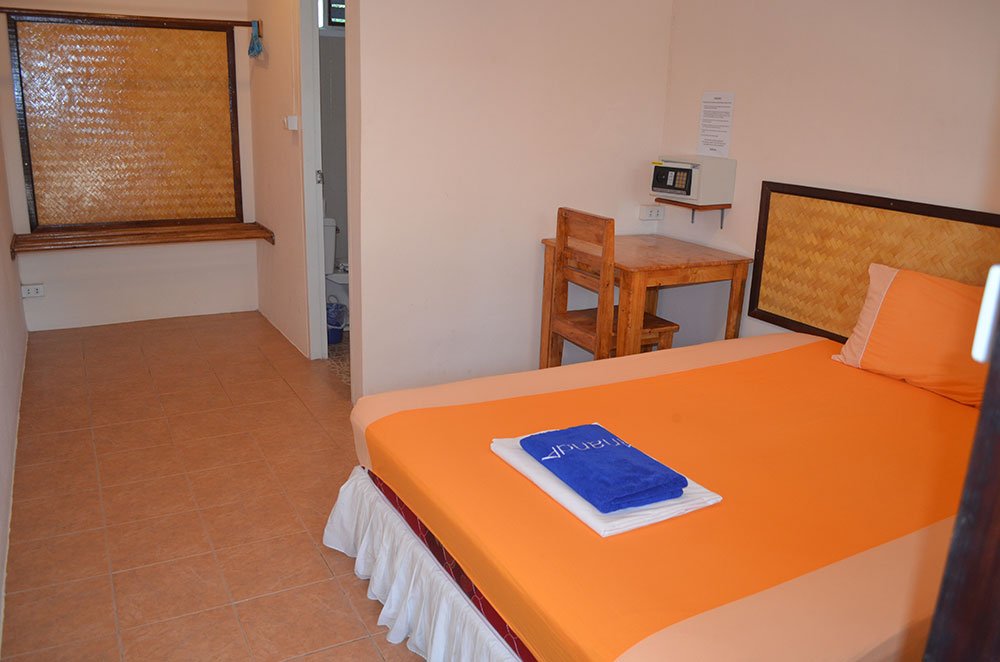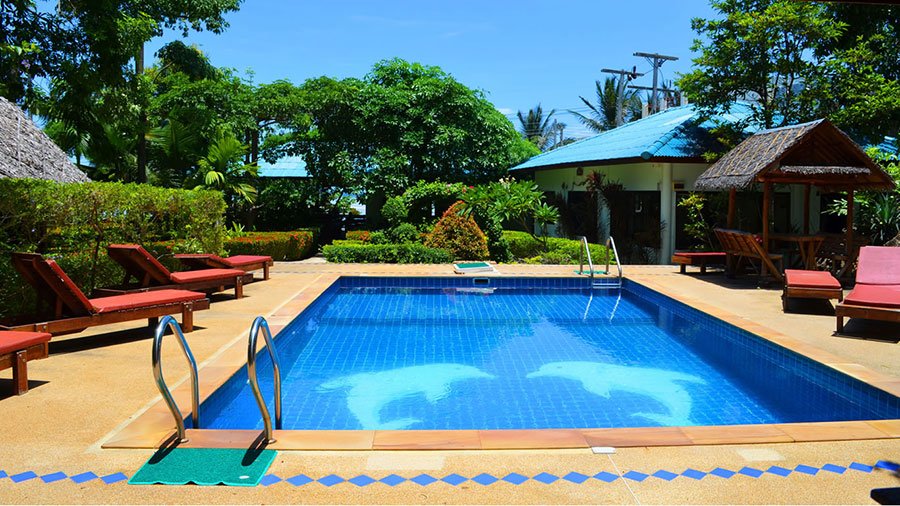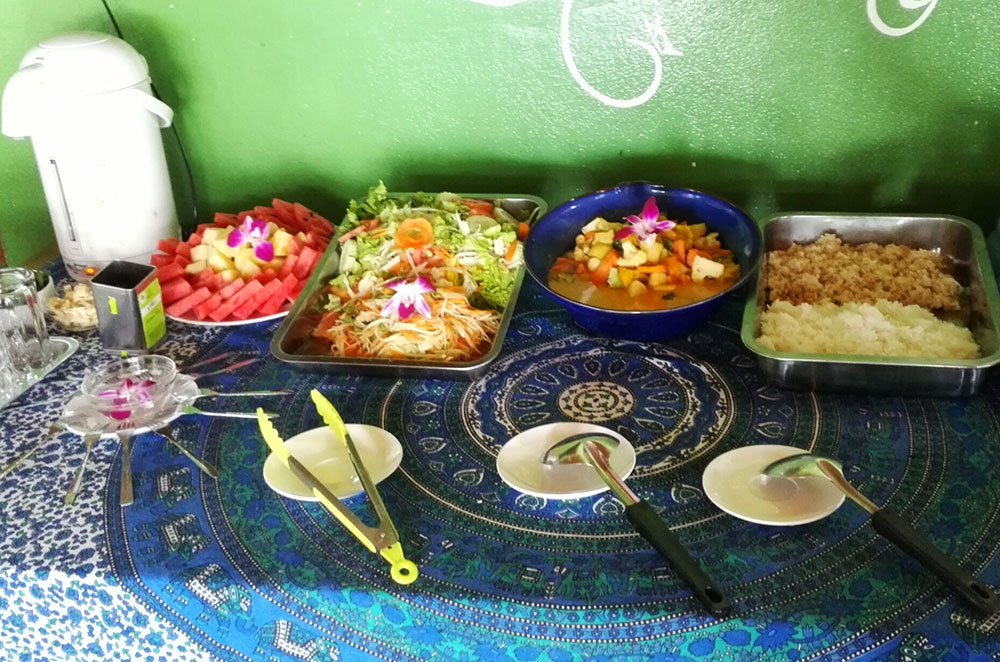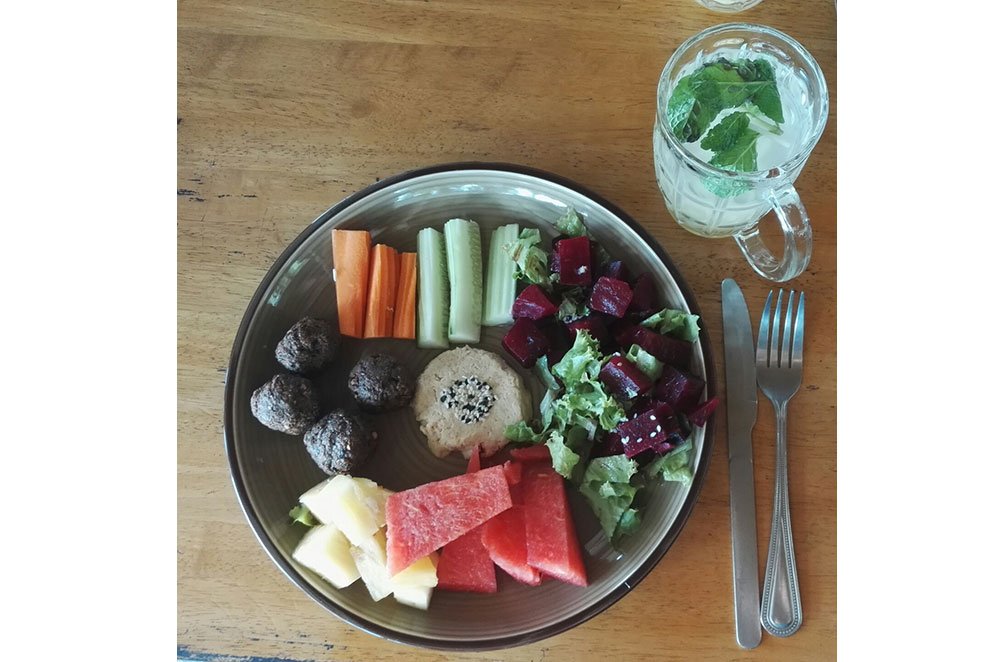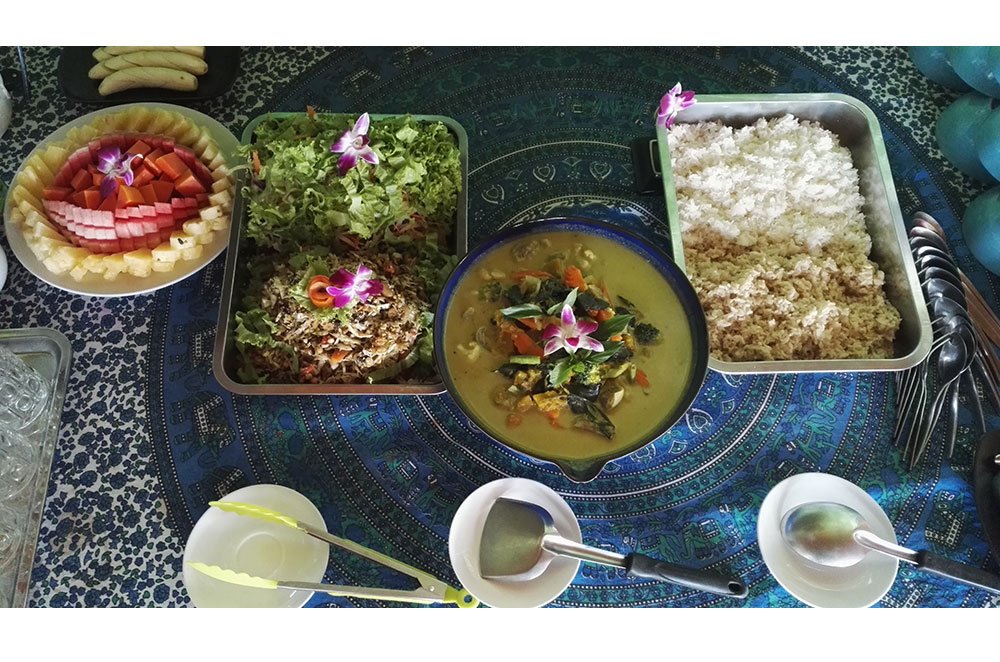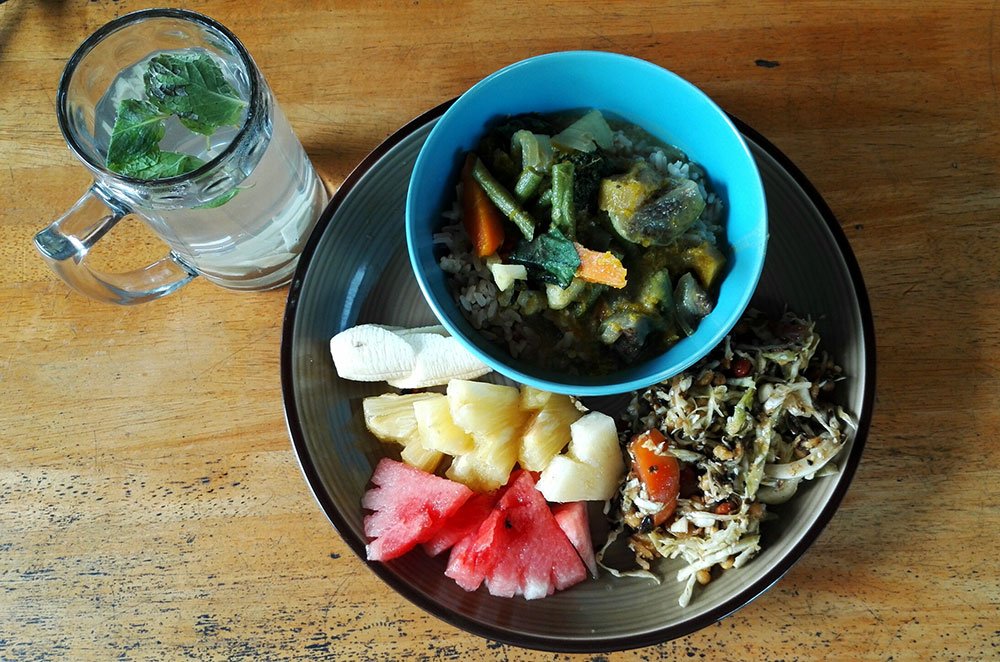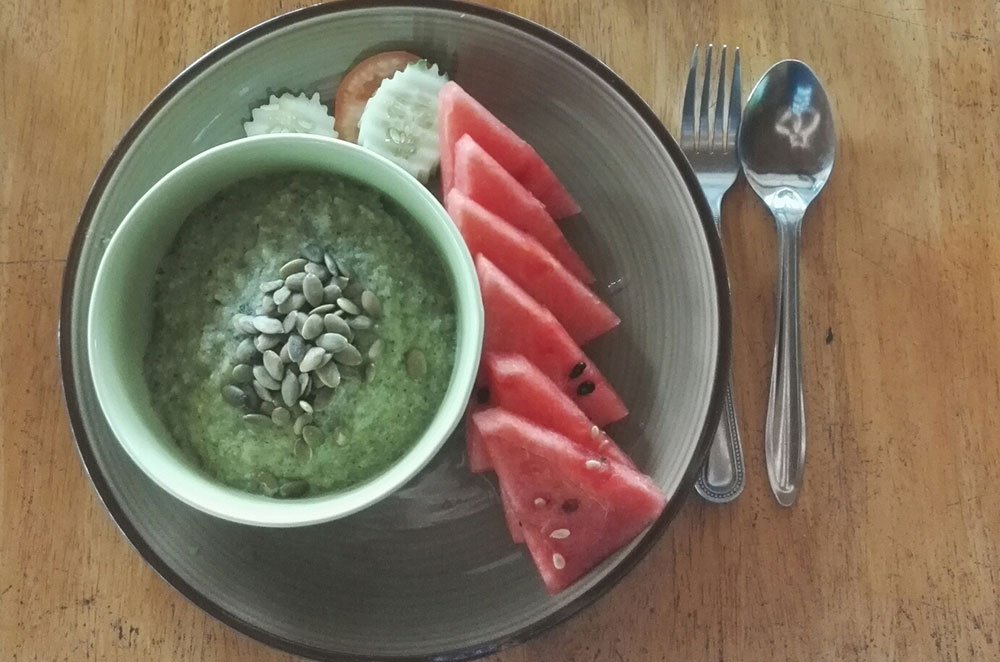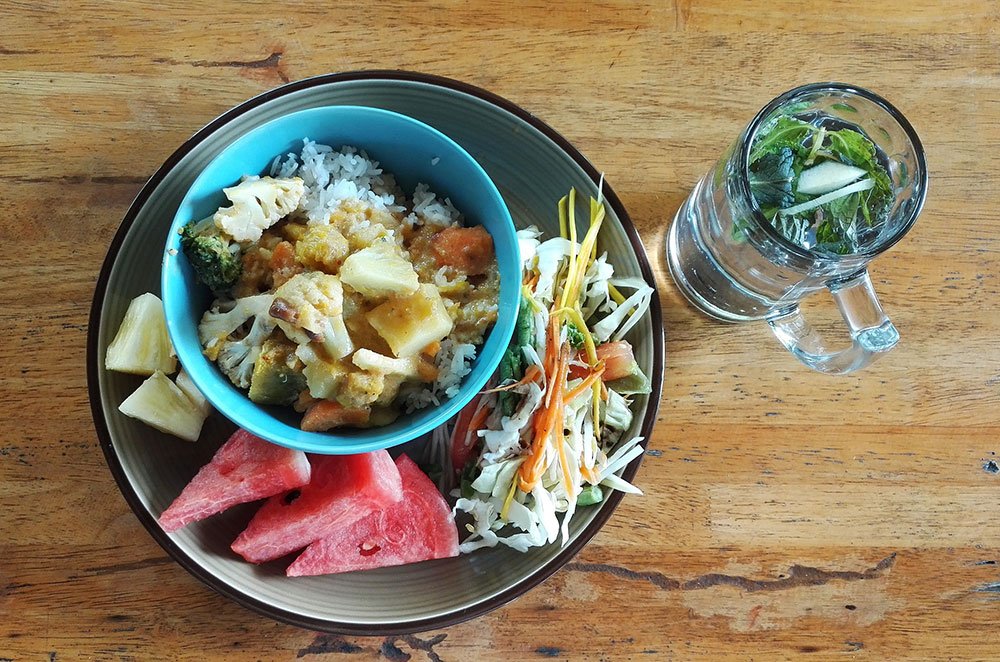 Included in your yoga teacher training are 3 vegetarian meals per day for the 28 days of the training, in our restaurant.
3 vegetarian buffet meals per day
Herbal tea included with each meal
Available for purchase through our restaurant are our full range of menu items including: shakes, juices, coconuts, and vegan desserts.
Main Yoga Hall
Ananda's main Yoga Studio is 15m x 10m (150m2 of clear space), making it one of the biggest in Thailand. It is fully equipped with mats and props. Two walls are mesh, and open to the outside air so that we feel included with the island while we practice.
Yoga Classroom
We have a smaller air conditioned class room for philosophy and theory discussions, and small group work.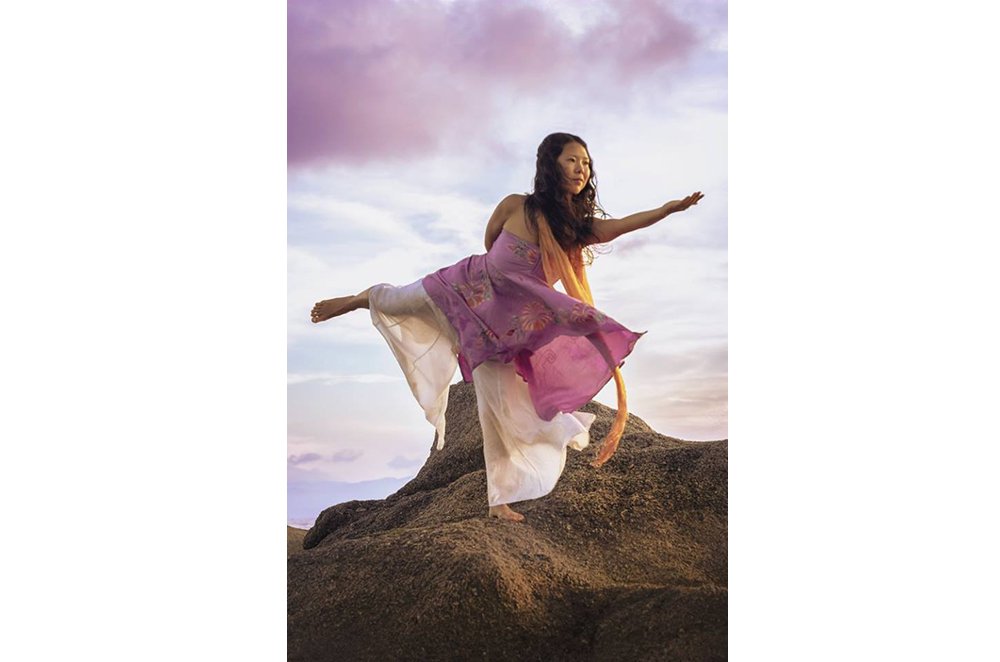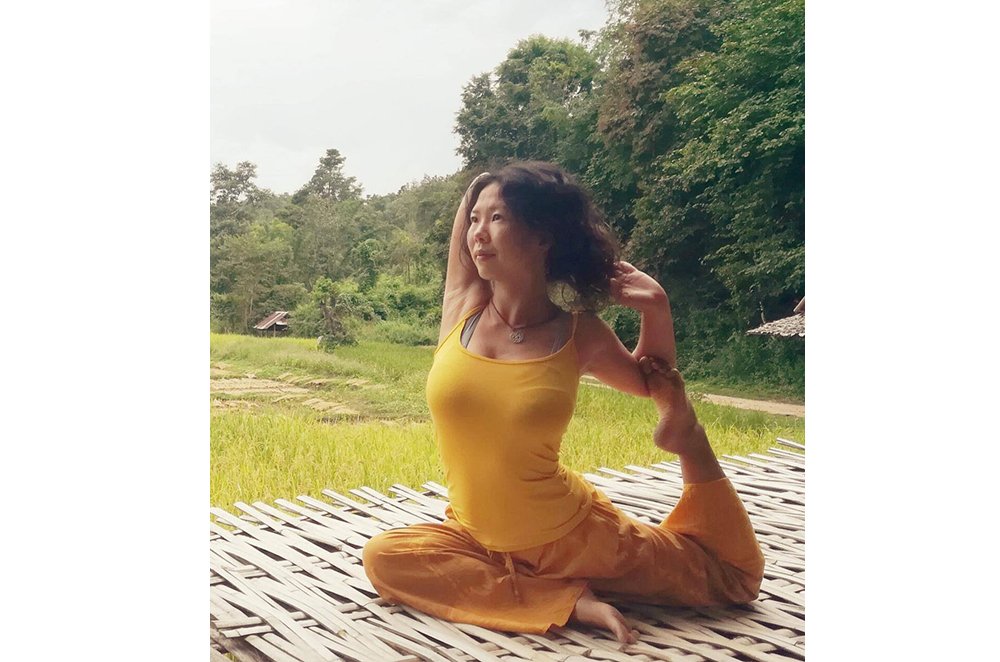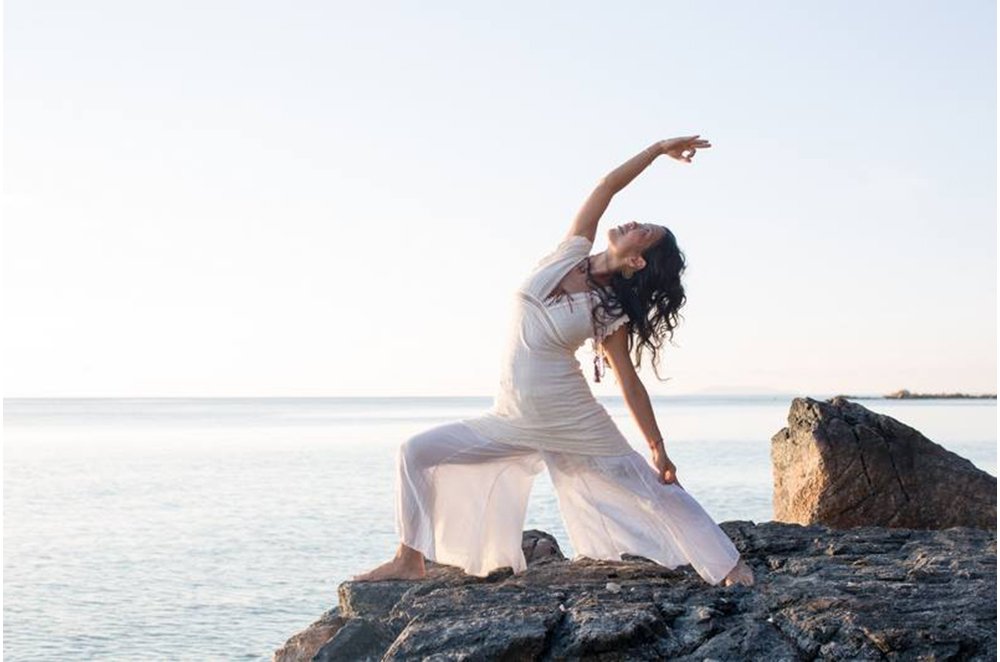 Originally from Japan, Akari Tamura is an e-200 hour Registered Yoga Teacher, known for her inspirational style of teaching and self-expression from the heart towards healing, love, and empowerment.
Since 2006, she has devoted years of study in traditional Hatha Yoga, Tantra Yoga, Tibetan Buddhism and Ashtanga Vinyasa Yoga.
Akari invites students to stay connected with the flow of breath throughout the dynamic asana practice. She views the breath as a bridge between conscious and subconscious mind, a portal to the present moment, a key for healing and transformation, and a means to transcend beyond the physical practice.
Akari's teaching encompases vinyasa, Tantra, physical yoga anatomy, energy anatomy, self-enquiry, meditation, mudra, mantra, mythology and a vast knowledge of yogic philosophy.
She is also a well-known Kirtan leader with a decades long background of classical music study.
Teacher Training Testimonials
Akari, I just wanted to say a massive thank you for the yoga teacher training. Your dedication to helping us grow and understand the very massive learnings of yoga. I really learnt so much more than I thought I was going to.
Your ability to cater to different personalities and energies is amazing. The time you put into the resources you gave us and the structure of the course was above and beyond and did not go unnoticed you really did exceed my expectations.
Thank you for not only helping me understand how to teach but you helped me through some pretty intense emotional times and made me face them head on. You are truely a magical person and I can only thank you from the bottom of my heart. I hope I can do you proud and I know you will be sharing your amazing gift with many more people. Lots of love
We attended a 4 day workshop on Pranayama led by Akari, set in a wonderful, peaceful, natural landscape. Akari was an excellent teacher and showed us several techniques, with very useful background information on the topic. She was very knowledgeable, accessible, articulate and patient.
My partner has a background in yoga and I was approaching it from a mindfulness perspective, and we both found the content and delivery to be a fantastic introduction to this subject. Since then we've been practicing and sharing Pranayama with others in our hometown, as we were so enthused and impressed by Akari's example of being a genuine Yogi.
Anyone who has the opportunity to learn about Yoga with Akari is wise to take up the chance. They will be able to develop and help themselves and others.
Since the first class I took with Akari, I felt really comfortable. I felt Akari shares her class deeply from her heart, so I could relax and connect. Akari makes students to be confident doing their practice, even for beginners. She explains the basics very clearly, and also give more advanced options if someone wants to go deep, but without forcing anybody in the classroom. She seems self-confident sharing the practice. But the most important thing is that Akari shares peace and love from her heart and this is what I love about it.