Begin your true evolution and transformation!
Ananda Pure Yoga Ashtanga Vinyasa 200 hour yoga teacher training at Ananda Yoga & Detox Center is the starting point for the rest of your life. This certification is recognized by Yoga Alliance.
Our Ashtanga Yoga Teacher Certification will allow you to teach globally. Under the professional guidance of our experienced international instructors, you will learn the theory and practice of yoga, the art of teaching, yoga philosophy, and much more!
Trainees may register with Yoga Alliance at its RYT-200 level upon successful completion of this training.
We ensure the quality of our yoga teacher training program by providing personalized guidance with the lead teacher to a small group of students.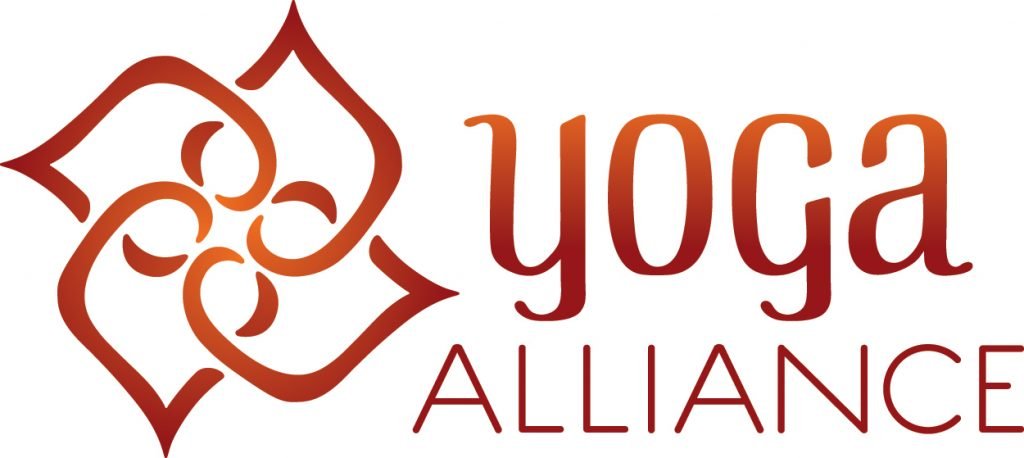 This yoga teacher training is a 28 day immersion, and includes 28 nights of accommodation & 3 vegetarian meals per day.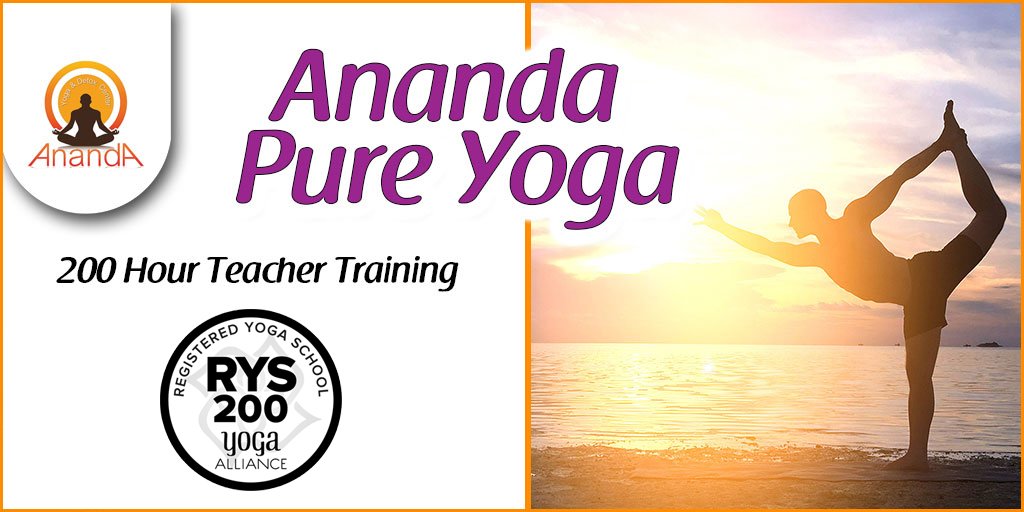 Ashtanga Vinyasa Yoga is a traditional yoga, known for the foundation of modern yoga today. It is a beautiful combination of dynamic style of asana practice with breath and internal awareness of presence. When Ashtanga Vinyasa Yoga is practiced with integrity, presence, and the awareness of energy movement within, the practice itself becomes a beautiful moving meditation. Every movement and breath become an expression of offering the inner presence from the heart.
Ananda Pure Yoga Ashtanga Vinyasa Teacher Training Course Curriculum
This Ashtanga Vinyasa Yoga Teacher Training provides a great foundation to refine your skills in the practice and the art of teaching yoga with presence and love. Focuses are not only on the intelligent understanding of biomechanics and physical alignment, but it also expands to energetic, psychological, and spiritual benefits of yoga.
Our approach to Yoga Practice is all-embracing; focuses are not only on physical alignment, but also on breath and energetic flow within with present moment awareness, subtle body and traditional Chakra system. You will learn how to practice and teach with heart. The course will provide a platform for your true evolution and transformation.
Additional topics will include:
Ashtanga Vinyasa Yoga
Vinyasa Flow Yoga
Restorative Yin Yoga
Asana
Pranayama
Bandha & Kriya
Meditation
Yoga Nidra
Mudra
Mantra
Kirtan and Voice Work
Therapeutic Breathwork
Physical & Energetic Anatomy
Introduction to Ayurveda and Yogic Diet
Yogic Lifestyle & Ethics
Yoga History & Philosophy
Introduction to Sanskrit
Art of Teaching
Alignment & Adjustment
Thai Yoga Massage Workshop
Ayurveda
Practicum
Business of Yoga
Photo session
Asana
Daily study and practice of postures, biomechanics and alignment, common errors, adjustment, energetic and health benefits, modifications, the use of props and effective voicing cues for teaching.
Asana enhances our health and well-being, brings more awareness to different parts of the body, creates more freedom space within and generates more life force.
Body is a temple for the soul's expression. The Sadhana (morning practice) is designed to begin with LED class in the first week, then will continue with Mysore style. You will deepen your self-practice to the whole new level of understanding.
We offer an approach of natural unfolding, presence, witness, effortless effort, rather than forceful, pushy, goal-oriented way of practice. We don't rush into the next pose with shallow fast-paced breathing, yet we rather breathe slowly with great presence. As Ashtanga Vinyasa Yoga is rather dynamic fiery practice, we will end a day with meditative and gentle practice of Yin Yoga for true balance and harmony with open heart during this intensive course.
Pranayama
We can survive without food and water for some days, but we cannot survive without breath for more than a few minutes. Pranayama is a breath control technique aiming at expansion of life force energy within one's own body. Breath is a bridge between conscious and subconscious mind. It is a key for transformation and healing. You will practice Pranayama every morning and will learn different Pranayama techniques such as Nadi Shodhana, Kapalbhati, Ujjayi, Bhramari, Shitali/Sitkari, Simha.
Meditation
Daily meditation practice refines the self-awareness and cultivates the lucidity of present moment. You will learn to still the movement of the mind and root your awareness in the heart through Spiritual Heart Meditation of Jnana Yoga. Other meditation techniques include but are not limited to: Metta (loving-kindness) meditation, Counting of the Breath, Walking Meditation and Yoga Nidra.
Mantra
Mantra is divine speech and sound vibration that illumines the mind and blossoms the heart. You will begin a day with japa practice, recitation of mantra 108 times with mala, to call in specific energy that supports your transformational journey during the program. You will also learn different aspects of the Divine and what each mantra represents, along with study of mythology to deepen your understanding in symbolism. There will be a lot of Kirtan (call-and-response style chanting with music) during the program. Expect to have a lot of fun and a profound heart opening!
Mudra
Mudras are seals of subtle energy that have a profound effect on the physical and energetic body. You will learn different hand mudras such as Jnana, Dhyana, Vishnu, Prana, Apana, Padma, Abhaya, Hridaya, etc.
Bandha
Introduction to main 3 bandhas of Mula, Uddiyana and Jalandhara. You will learn how to practice them as a part of Pranayama practice, also how to incorporate them into Ashtanga Vinyasa practice setting.
Shatkarma
You will be introduced to different yogic purification techniques such as Yogic morning cleansing routine, Agnisara Dhauti, fasting, Trataka and other Yogic self-cleansing techniques.
Yoga Anatomy
The anatomy of physical movement and study of basic mechanism of skeletal, muscular, digestive, respiratory, cardiovascular, and nervous systems. You will also study the anatomy of subtle energetic body such as panchakosha (5 bodies), nadis, chakras, vayus and ojas (sexual energy).
Introduction to Ayurveda
Ayurveda is an ancient Indian wisdom of life science and tool to understand yourself and others. You will study Pancha Maha Bhuta-s (5 elements), doshas, gunas, and prana and also will discover your own dosha/typology. You will be able to apply the knowledge of Ayurveda into your diet and daily life.
Yoga Philosophy & Ethics
Discussions on the philosophy topics include:
Yoga History – from Vedic to modern time
Study of Traditional Yogic texts such as Yoga Sutras of Patanjali, Upanishads, Bhagavad Gita
Study of different philosophical views – Sankhya, Classical Yoga, Tantra, Advaita
Study of 4 Paths of Yoga – Jnana, Karma, Raja, Bhakti
Yogic Lifestyle, diet and nutrition
In-depth discussions on each 5 Yamas and Niyamas to how to apply them into daily life
Different aspects of deities and symbolism, mythology, Ramayana, Mahabharata
The concept of Dharma, Sankalpa, Seva, and Hridaya.
Art of Teaching
This includes: articulation of words, voicing techniques with effective cues, holding space, communication skills, the art of adjustments, demonstrations and observation. You will learn how to teach with heart, presence, confidence and integrity with skillful teaching methodology.
There will be a plenty of time to practice teaching; starting from one-on-one to small group, and gradually extended to lead the entire 90-minute class. The course is designed to support you with gradual progression in teaching with joy and clear understanding. There will be a discussion on business in Yoga where you will learn how to begin your career as a yoga teacher with integrity and heart.
Thai Yoga Massage
Touch is an expression of love. You will learn the short massage sequence which you can offer to your students, friends or family. Thai Yoga Massage balances the energy flow, relieves muscle pain, and promotes relaxation. You will learn how to apply pressure with your hands using the proper body posture and body weight. It will support you to develop the sense of touch with confidence that will help you to become more familiar with asana adjustment for students.
Therapeutic Breathwork for Transformation
Breathwork is a simple yet powerful practice to release stuck emotions and past conditioning/trauma, reset from daily stress and connect with inner wisdom. We will let go whatever no longer that doesn't serve for us, and open ourselves to LOVE that we are to truly serve as a teacher of yoga.
November 18 to December 16, 2018
200 Hour Yoga Teacher Training
$2,200
February 3 to March 3, 2019
200 Hour Yoga Teacher Training
$2,200
SHARED ROOMS, are available only to 2 students. If you are arriving alone, indicate in the comment section of your application to place you on the shared room waitlist. If another student wants to share a room, we will notify you that a Shared Room is available.
All rates with or without accommodation include 3 healthy vegetarian yogi meals per day plus herbal tea.
Deposit: $650
Early Bird Rate: Receive $300 off the cost above when we receive your deposit at least 30 days prior to the start of your yoga teacher training.
Teacher Training Location
The beautiful tropical island of Koh Phangan, Thailand. Receive your yoga teacher training in stress free paradise!
Ananda Yoga & Detox Center is located along Hin Kong beach, with a stunning view over the Gulf of Thailand. People come from all over the island every evening to enjoy the beautiful sunsets.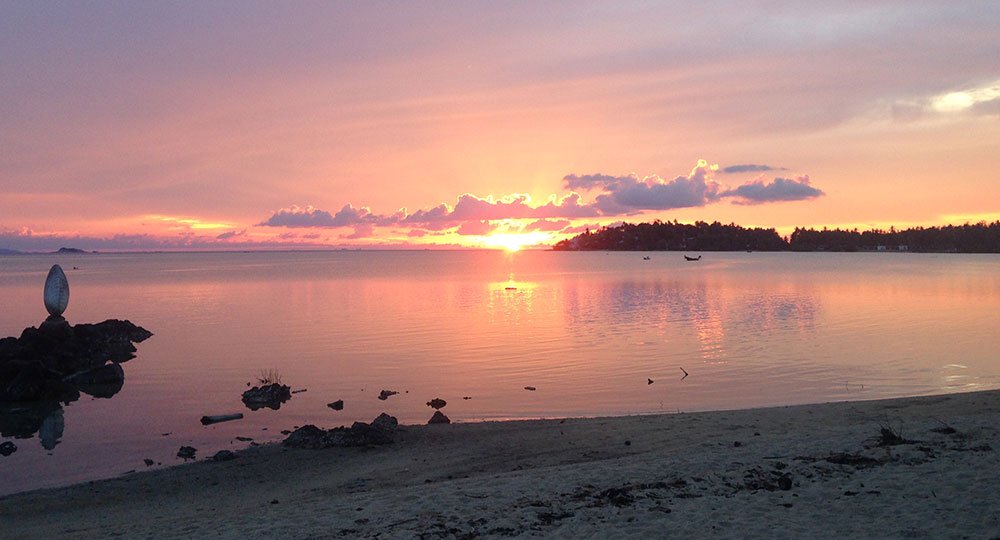 Our facilities are clean, cared for with love, and very serene and peaceful.
We offer several room types for your comfort level and budget.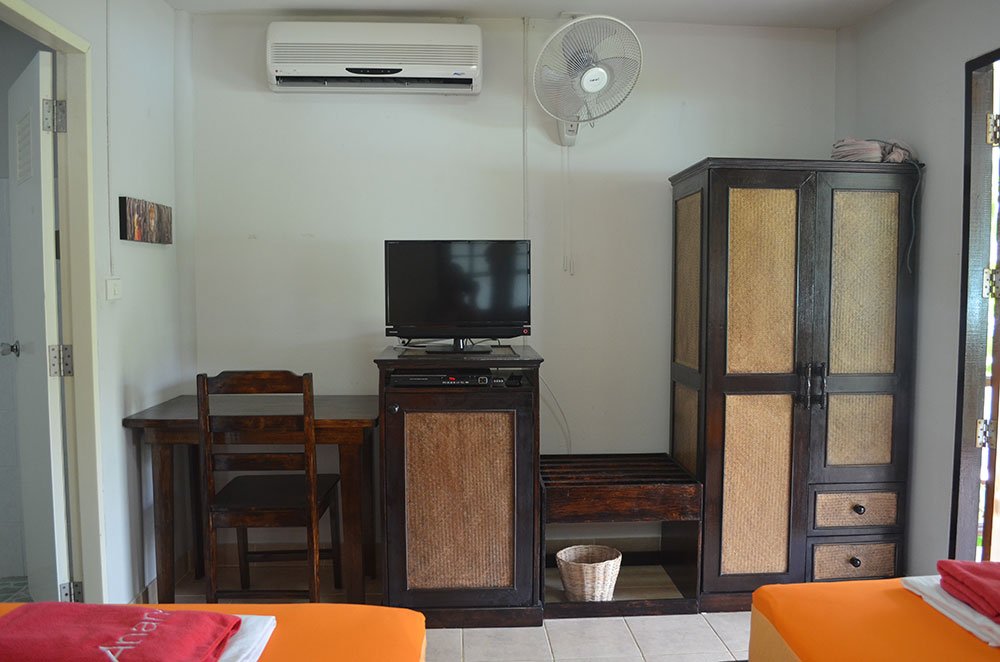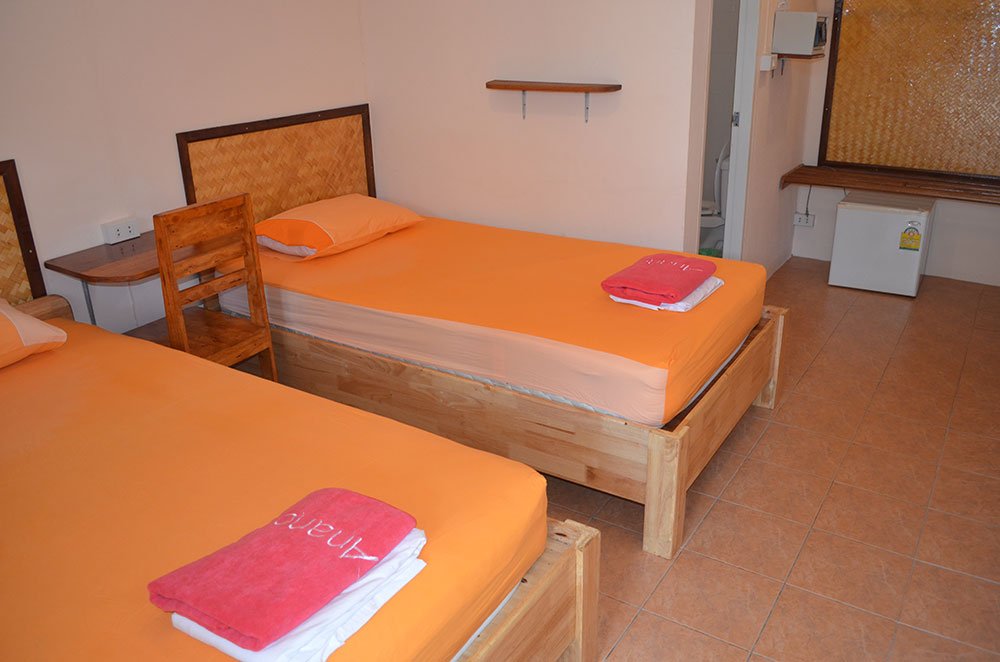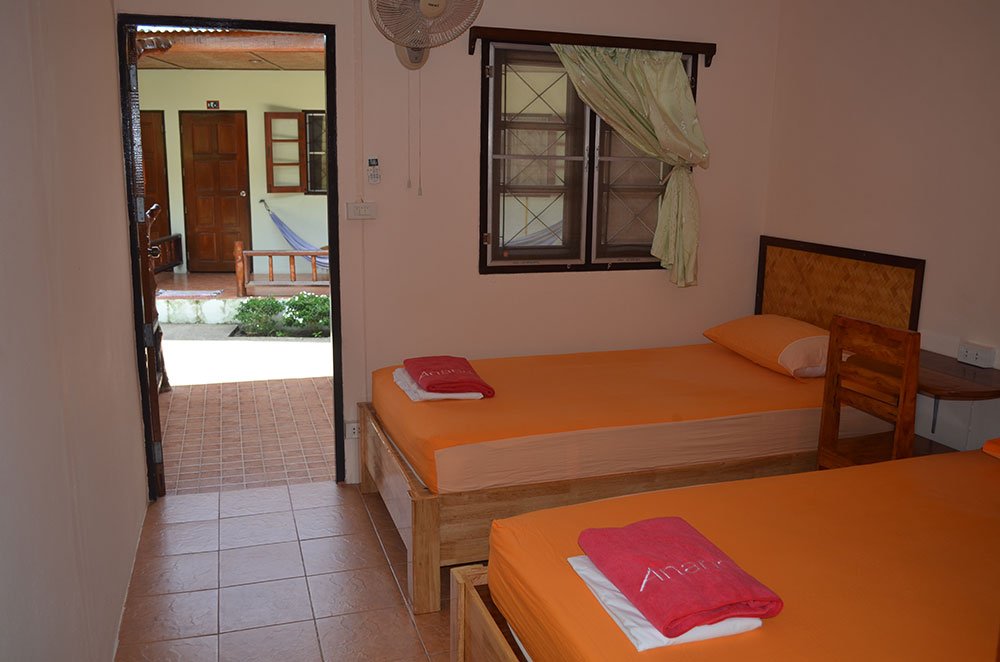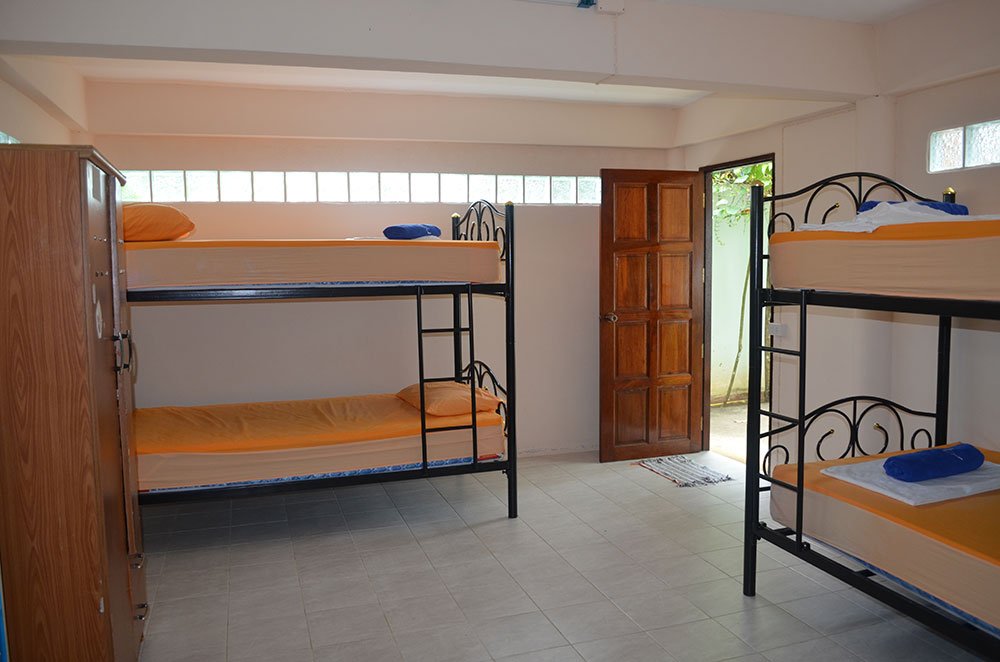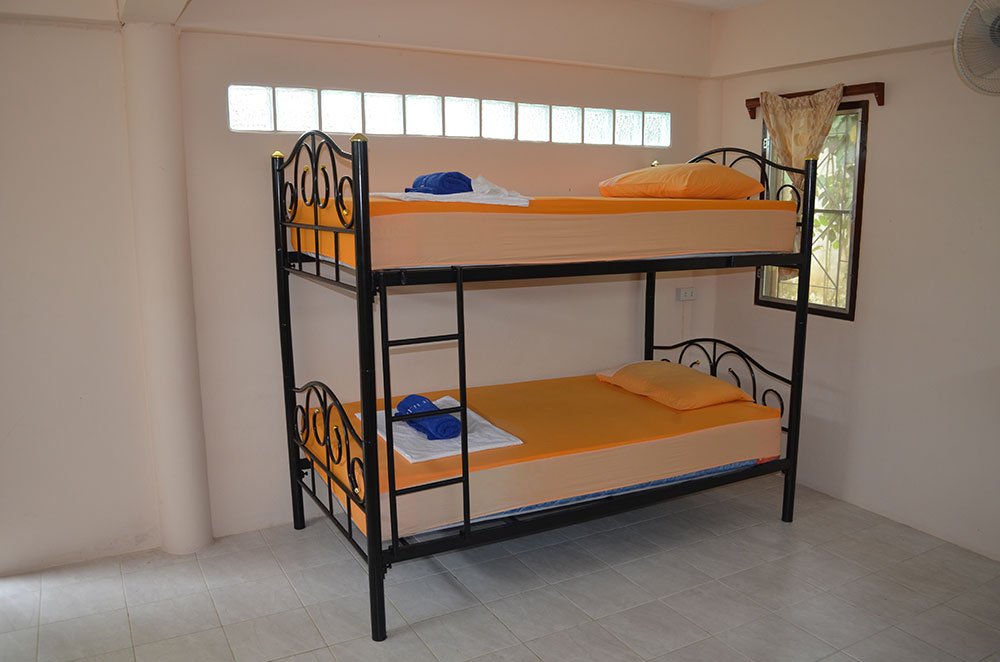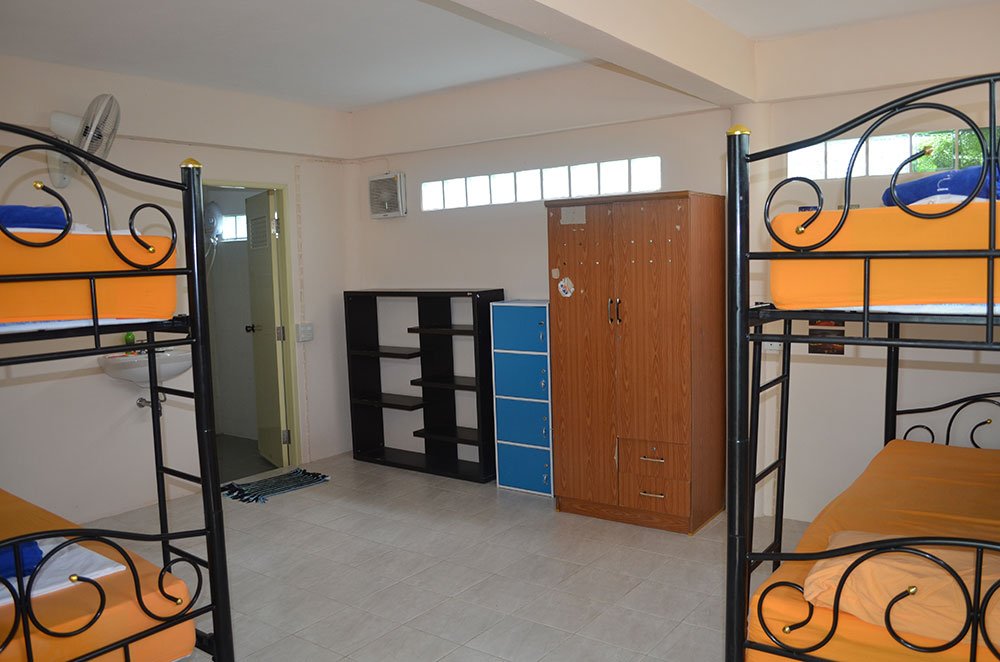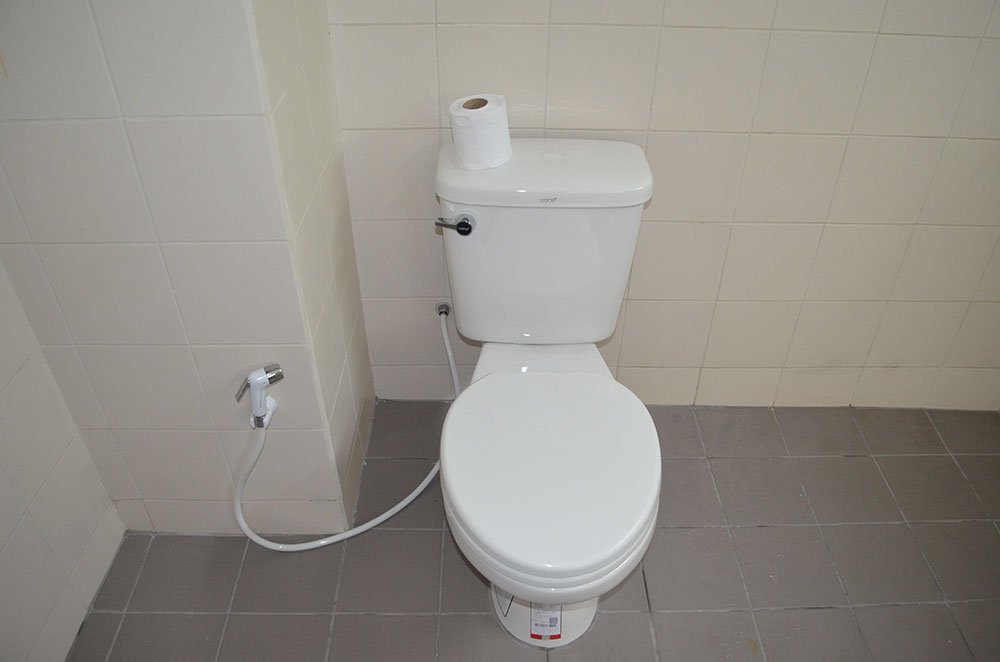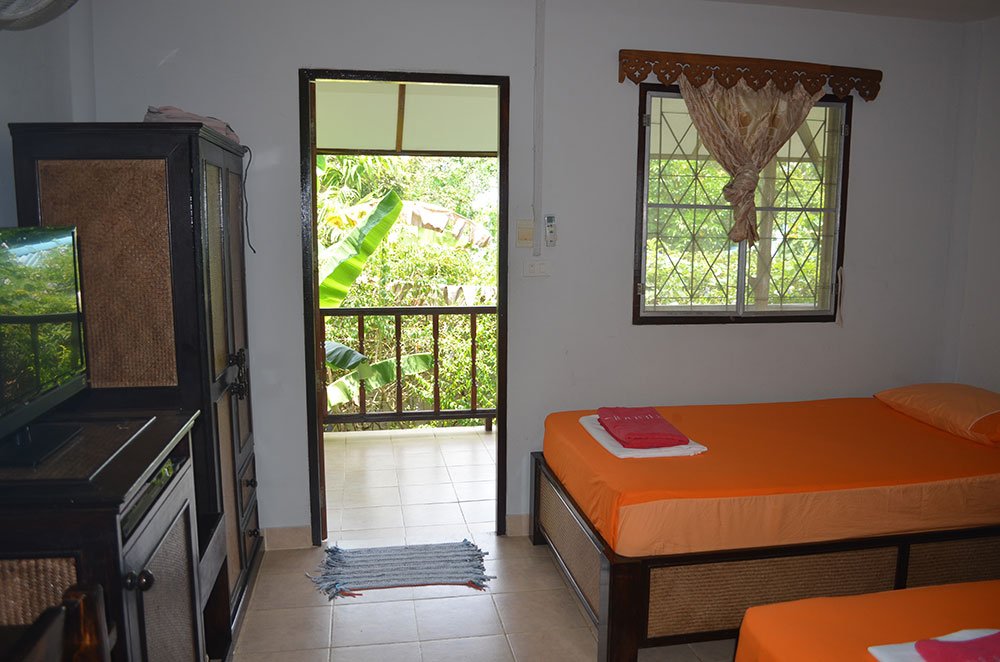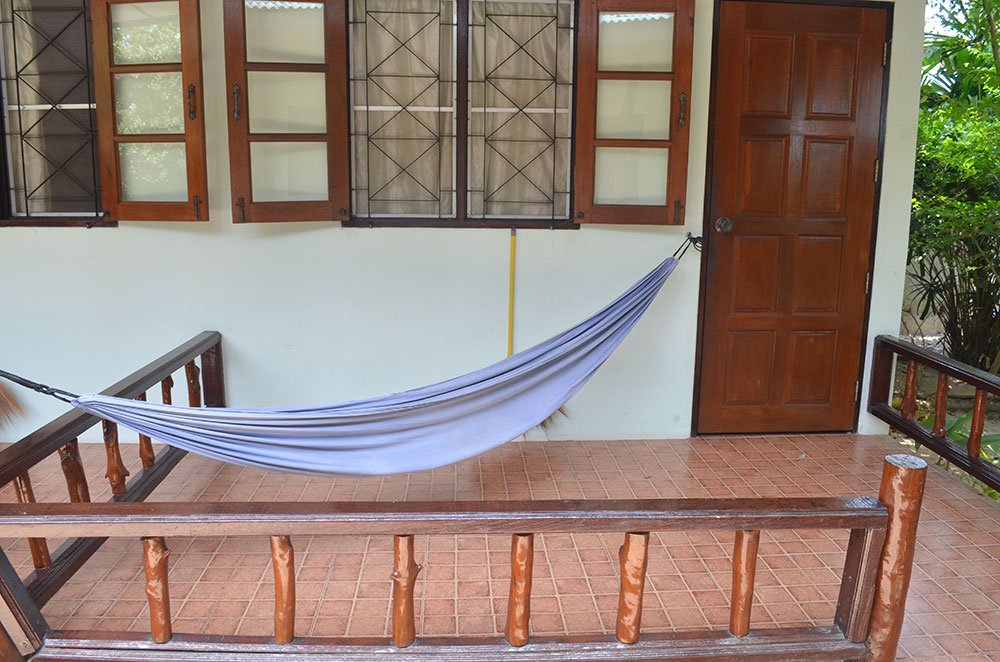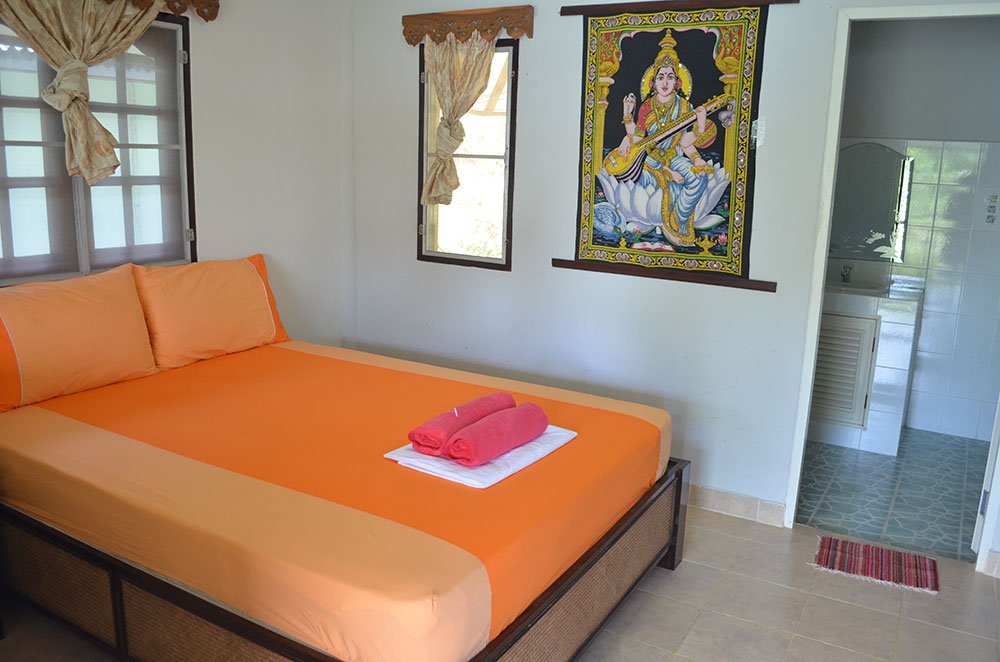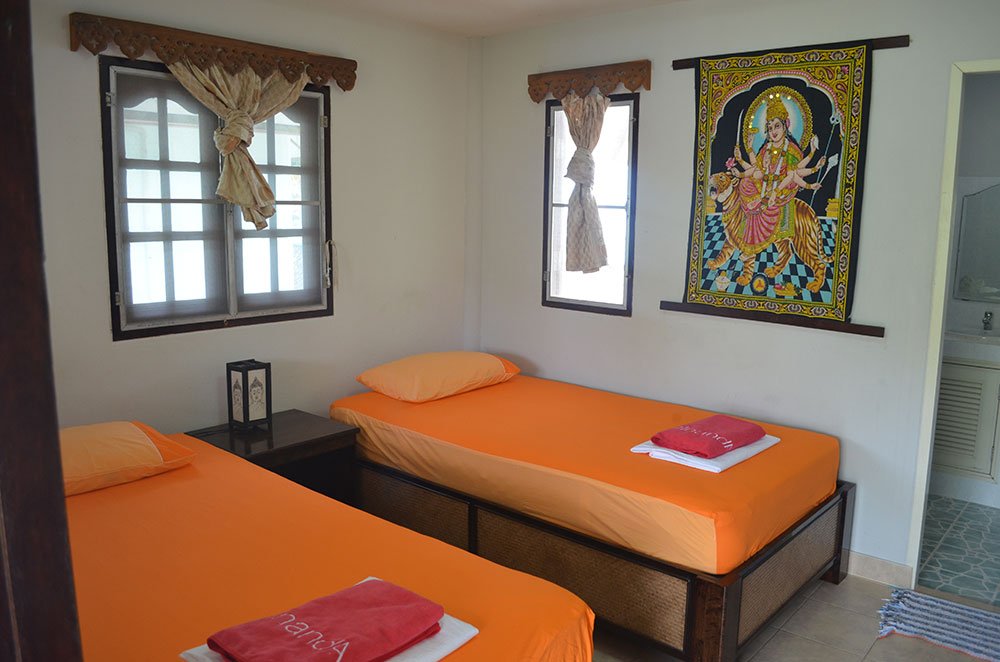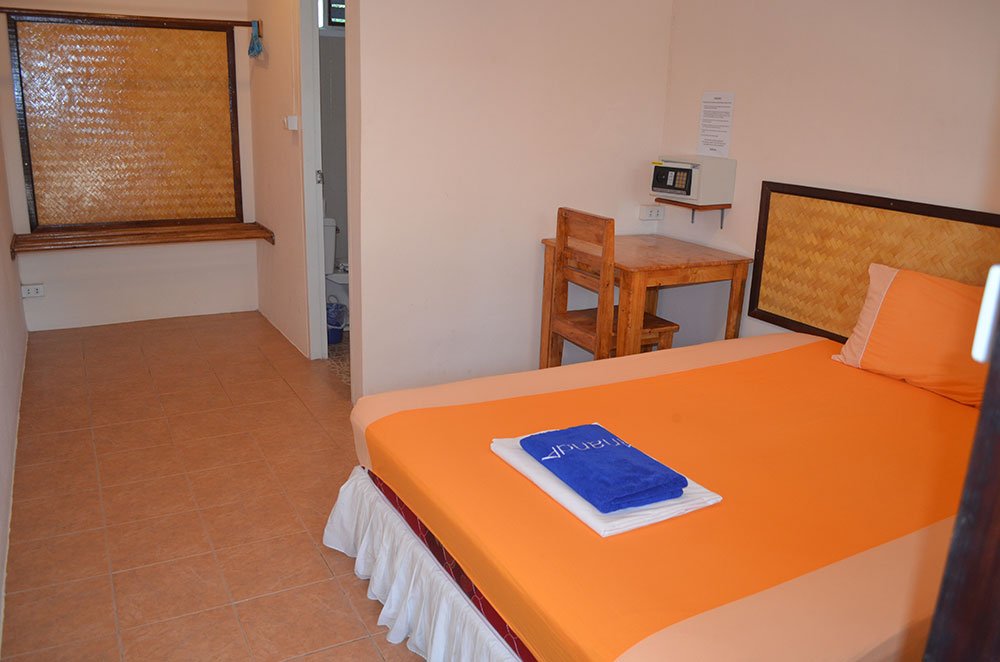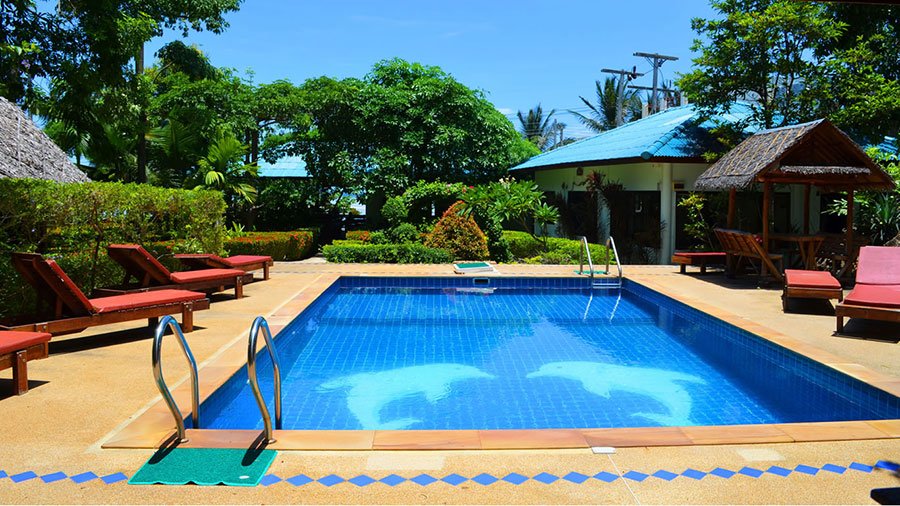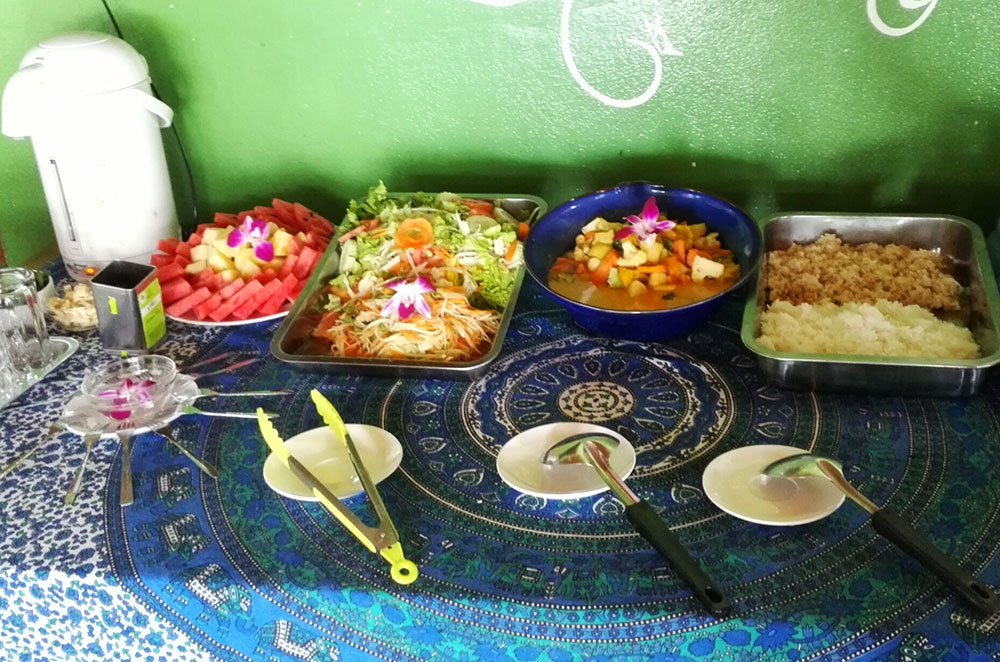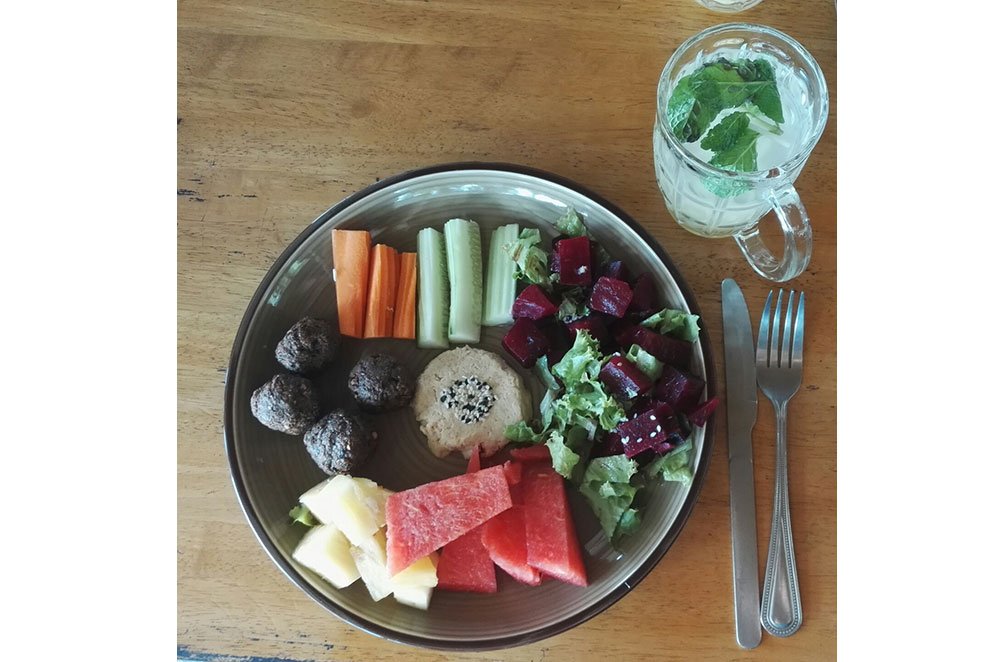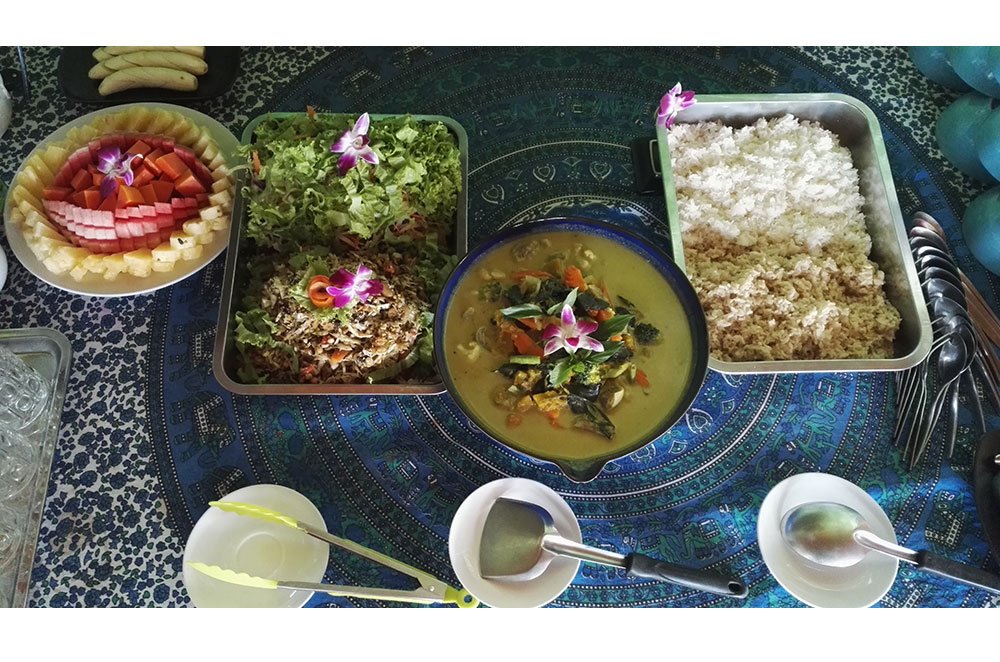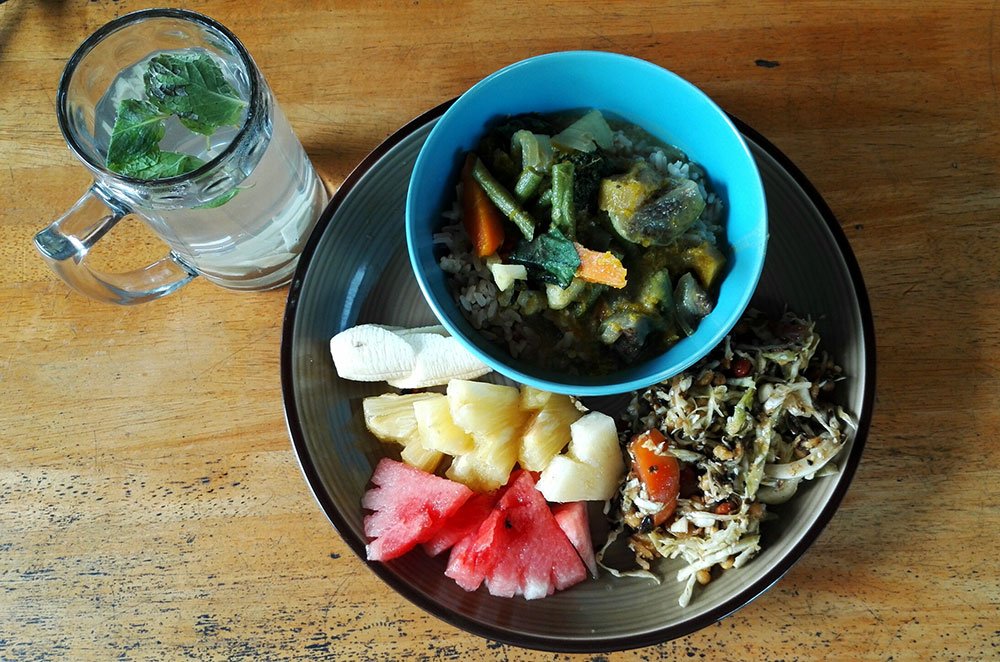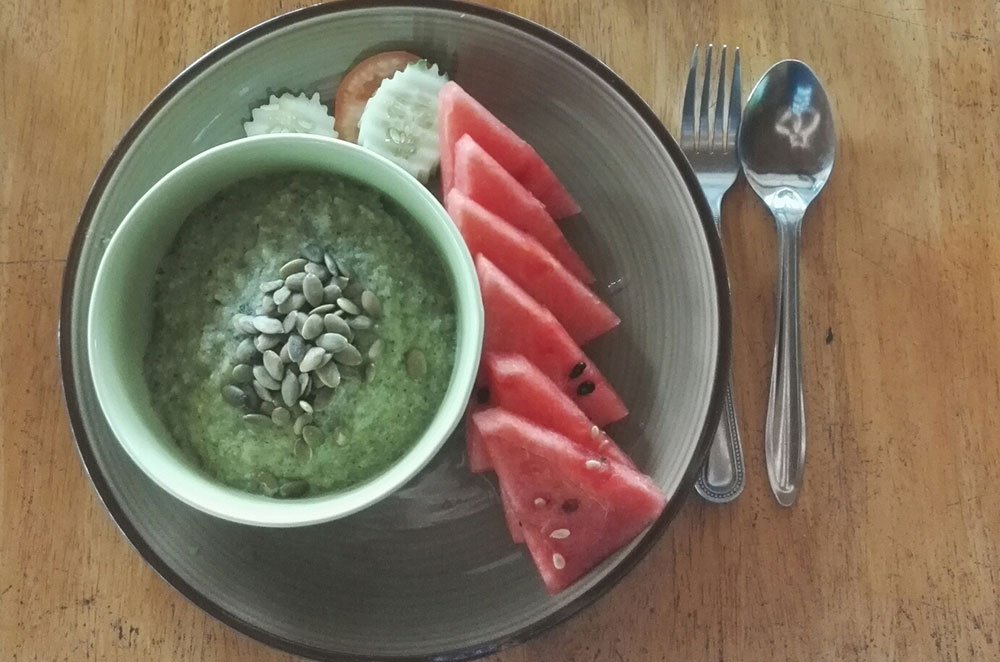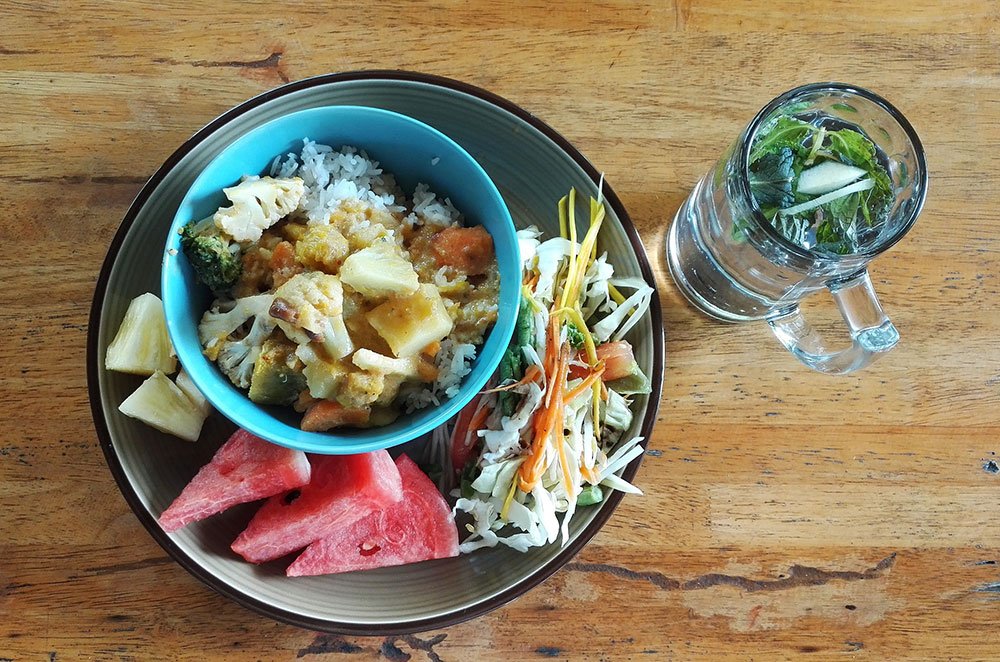 Included in your yoga teacher training are 3 vegetarian meals per day for the 28 days of the training, in our restaurant.
3 vegetarian buffet meals per day
Herbal tea included with each meal
Available for purchase through our restaurant are our full range of menu items including: shakes, juices, coconuts, and vegan desserts.
Main Yoga Hall
Ananda's main Yoga Studio is 15m x 10m (150m2 of clear space), making it one of the biggest in Thailand. It is fully equipped with mats and props. Two walls are mesh, and open to the outside air so that we feel included with the island while we practice.
Yoga Classroom
We have a smaller air conditioned class room for philosophy and theory discussions, and small group work.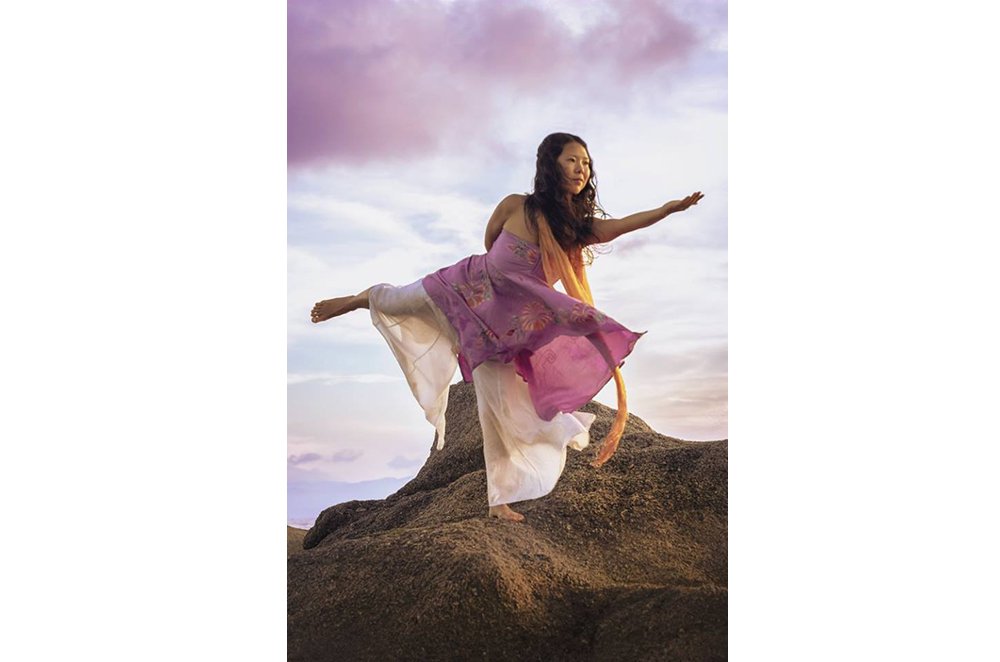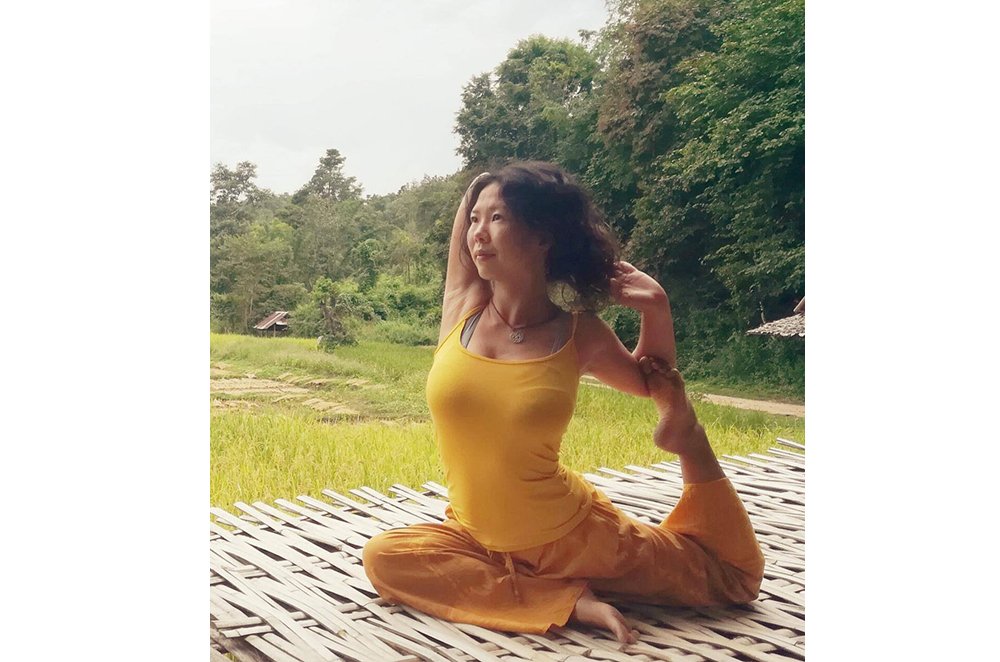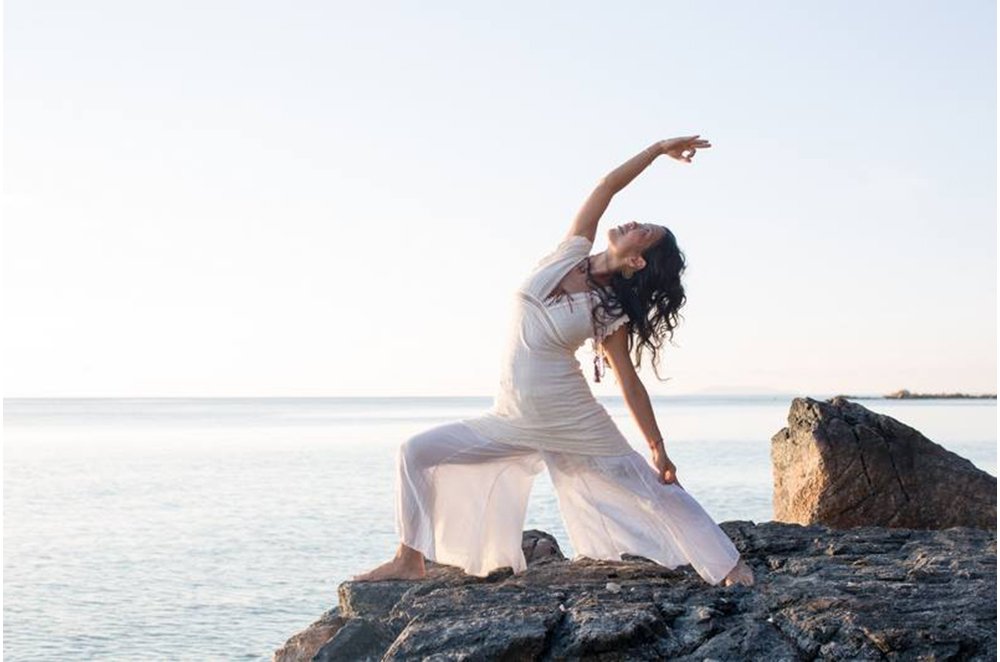 Originally from Japan, Akari Tamura is an e-200 hour Registered Yoga Teacher, known for her inspirational style of teaching and self-expression from the heart towards healing, love, and empowerment.
Since 2006, she has devoted years of study in traditional Hatha Yoga, Tantra Yoga, Tibetan Buddhism and Ashtanga Vinyasa Yoga.
Akari invites students to stay connected with the flow of breath throughout the dynamic asana practice. She views the breath as a bridge between conscious and subconscious mind, a portal to the present moment, a key for healing and transformation, and a means to transcend beyond the physical practice.
Akari's teaching encompases vinyasa, Tantra, physical yoga anatomy, energy anatomy, self-enquiry, meditation, mudra, mantra, mythology and a vast knowledge of yogic philosophy.
She is also a well-known Kirtan leader with a decades long background of classical music study.
Frequently Asked Questions
How do I secure my spot and early bird rate?
A non-refundable deposit of $650 (≈22,000 Baht) is required to secure your spot. The early bird rate is secured if your deposit is received at least 30 days prior to your program start date.
Do we have any days off?
Yes, you have Sundays off! Go to the beach, plan a diving trip, go snorkeling, explore a temple, hike through the jungle. It's your day to adventure or relax.
How long are we in session on other days?
Plan on being in training 8 to 10 hours each day. You will get breaks throughout the day to study, eat, and process.
Do I need to have an advanced yoga practice before joining?
No. We prefer a year of consistent yoga practice, but we are happy to introduce you to yoga. There is no need to know advanced poses such as headstand, handstand or other arm balances and inversions. It does not matter if you are not flexible.
Will I be able to teach yoga anywhere in the world after I complete the certification?
After you complete the yoga teachers training course, you will be certified to register with Yoga Alliance as a 200 hour Registered Yoga Teacher. Yoga Alliance is the most respected and largest organization of certified yoga teachers in the world.
Do I need to bring my own yoga mat?
Our yoga hall has mats, blocks, straps, and pads. It's not necessary to bring your own, as traveling with a yoga mat can be cumbersome, but sometimes the comfort of "our" mat is nice. We also have mats for sale in our yoga shop, should you wish to purchase one here.
What if I paid for the course and cannot come? Do I get a refund?
The Deposit is Non-Refundable – If a student opts to withdraw from the program at any point, the Deposit will not be refunded.
No refunds are offered within 30 days of the yoga teacher training program start date.
An emailed request for refund must be received 31 days before the start date of the YTT program.
Any refunds will be issued in the same format that they were received.
You may transfer amounts paid towards future trainings. See our complete Yoga Refund Policies for all of the details.
We do recommend that you obtain travel insurance. Reasons for this recommendation include:
Trip cancellation and trip interruption insurance – This reimburses you non-refundable travel costs if your trip is cancelled or seriously delayed due to a natural disaster, or illness.
Baggage and personal items coverage – If someone steals something from your bag or your luggage is lost or delayed, travel insurance will pay you for your trouble.
Emergency medical insurance – Just as you wouldn't want to go without medical insurance in everyday life, when you're traveling abroad it's important to stay covered in case of accidents.
Teacher Training Testimonials
Akari, I just wanted to say a massive thank you for the yoga teacher training. Your dedication to helping us grow and understand the very massive learnings of yoga. I really learnt so much more than I thought I was going to.
Your ability to cater to different personalities and energies is amazing. The time you put into the resources you gave us and the structure of the course was above and beyond and did not go unnoticed you really did exceed my expectations.
Thank you for not only helping me understand how to teach but you helped me through some pretty intense emotional times and made me face them head on. You are truely a magical person and I can only thank you from the bottom of my heart. I hope I can do you proud and I know you will be sharing your amazing gift with many more people. Lots of love
We attended a 4 day workshop on Pranayama led by Akari, set in a wonderful, peaceful, natural landscape. Akari was an excellent teacher and showed us several techniques, with very useful background information on the topic. She was very knowledgeable, accessible, articulate and patient.
My partner has a background in yoga and I was approaching it from a mindfulness perspective, and we both found the content and delivery to be a fantastic introduction to this subject. Since then we've been practicing and sharing Pranayama with others in our hometown, as we were so enthused and impressed by Akari's example of being a genuine Yogi.
Anyone who has the opportunity to learn about Yoga with Akari is wise to take up the chance. They will be able to develop and help themselves and others.
Since the first class I took with Akari, I felt really comfortable. I felt Akari shares her class deeply from her heart, so I could relax and connect. Akari makes students to be confident doing their practice, even for beginners. She explains the basics very clearly, and also give more advanced options if someone wants to go deep, but without forcing anybody in the classroom. She seems self-confident sharing the practice. But the most important thing is that Akari shares peace and love from her heart and this is what I love about it.